Patriots Daily: Many QB Prospects Fail to Impress on Saturday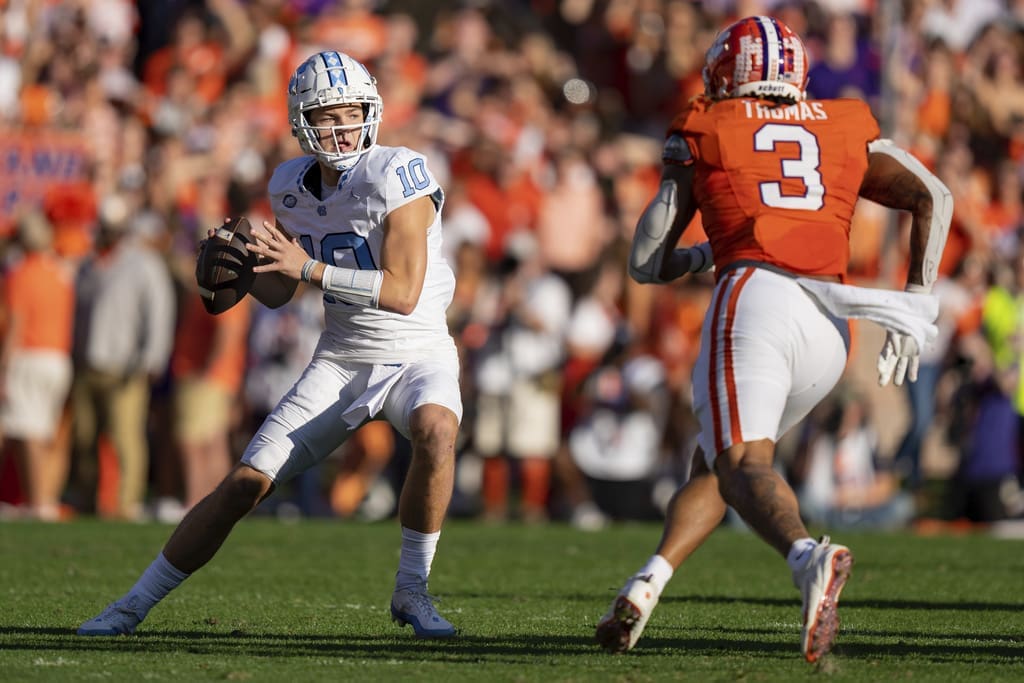 The New England Patriots are sitting out this weekend on their bye. With a 2-8 record, the attention of many fans has already turned toward the 2024 NFL Draft. The quarterbacks projected to be the first two off the board failed to impress in yesterday's college football games.
USC's Caleb Williams put up good looking final numbers in their 38-20 loss to crosstown rival UCLA. The defeat dropped the Trojans to 7-5. Williams finished 31-of-42 for 384 yards, one touchdown, and one interception. After struggling to keep USC over .500 this season, questions are obviously arising about his ability to turn around an NFL franchise. He also "elected not to speak to the media" after the game.
Drake Maye of North Carolina had an even rougher day. UNC lost to Clemson 31-20 and Maye had arguably the worst game of his college career. He completed only 16-of-36 passes, for 209 yards, one touchdown, and one interception. He rushed 10 times for 67 yards. Tar Heels RB Omarion Hampton was so effective (19 carries, 178 yards, two touchdowns) it appeared relying less on Maye would have been the key to success.
Other Top Quarterbacks Struggle
Washington's Michael Penix Jr. at least struggled in a victory. The Huskies beat the Beavers of Oregon State 22-20. Penix, Jr. completed 13-of-28 passes for 162 yards, two touchdowns, and no interceptions. Although he was not nearly as dynamic as he has been throughout 2023, but he did not turn the ball over, and walked away with a win.
Michigan's J.J. McCarthy was 12-of-23 passing for 141 yards, no touchdowns and an interception in the Wolverines 31-24 win over Maryland.
Colorado's Shedeur Sanders, who is believed to be returning to play another year of college football in 2024, left the game with an injury. The Buffaloes were trailing 28-7 at the time. Sanders completed 6-of-10 passes for 86 yards, a touchdown and no interceptions. He did fumble twice, losing one. Washington State went on to beat Colorado 56-14.
Nix and Daniels Shine
Two bright spots from yesterday's game in the QB Class of 2024 were Oregon's Bo Nix and LSU Jayden Daniels.
Bo Nix led the Ducks to a 49-13 win over Arizona State. He completed 24-of-29 passes for 404 yards, six touchdowns, and no interceptions.
Jayden Daniels had an impressive afternoon against an overmatched Georgia State team. His final passing numbers: 25-of-30, 415 yards, six touchdowns, no interceptions. He also rushed 10 times for 96 yards and two touchdowns.
With many NFL teams considering a quarterback change in 2024, the opportunity for these QB's to impress is there, but not many took advantage yesterday.
Also in today's Patriots Daily: NFL Power Rankings; Dolphins De'Von Achane returns; Desmond Ridder back in at QB for the Falcons; Patrick Mahomes injury status; and more…
Patriots Football Now
PFN – NFL Power Rankings
PFN – New England Patriots Offensive Tackle Troubles
Patriots Football Now+ – 2024 NFL Draft Previews
AFC East News
CBS Sports – Bills LB Matt Milano not expected to return this season
ESPN – Dolphins De'Von Achane's comes off IR; will play vs. Raiders
Jets X-Factor – Are the New York Jets about to make a delusional decision on RB Dalvin Cook?
NFL News
Yahoo! Sports– Bengals QB Joe Burrow to miss the rest of the season with wrist injury
NFL.com– Falcons to start Desmond Ridder at QB
Yardbarker – Patrick Mahomes injury status suddenly changes
Boston Bruins
Go over to our sibling site Boston Hockey Now to check out the great Boston Bruins coverage from Jimmy Murphy and the BHN team. The NHL season is underway and there is plenty happening in the Bruins 100 Anniversary season.
Subscribe here or at BHN to get a subscription to both sites. Subscribers get bonus coverage such as NFL Draft scouting reports and weekly NFL Power Rankings. It also provides a completely ad-free experience on the sites.
Use code KELLEY10 and get $10 off a yearly subscription. It is less than $2.50/month!
Fun Fact of the Day
The New England Patriots are 16-7 coming off of a bye under Bill Belichick.
Tweet of the Day
Today's Tweet of the Day comes from Chris Mahoney, because his sister-in-law is more impressive than anything we will see on a football field this weekend…
Happy Friday!! My SIL beat cancer today! pic.twitter.com/r2cpNStKtI

— Chris Mahoney (Energy Guardian) ☘️ (@CJHurricane781) November 17, 2023