Patriots Daily: Importance of Giants Game; Portnoy Suing NFL?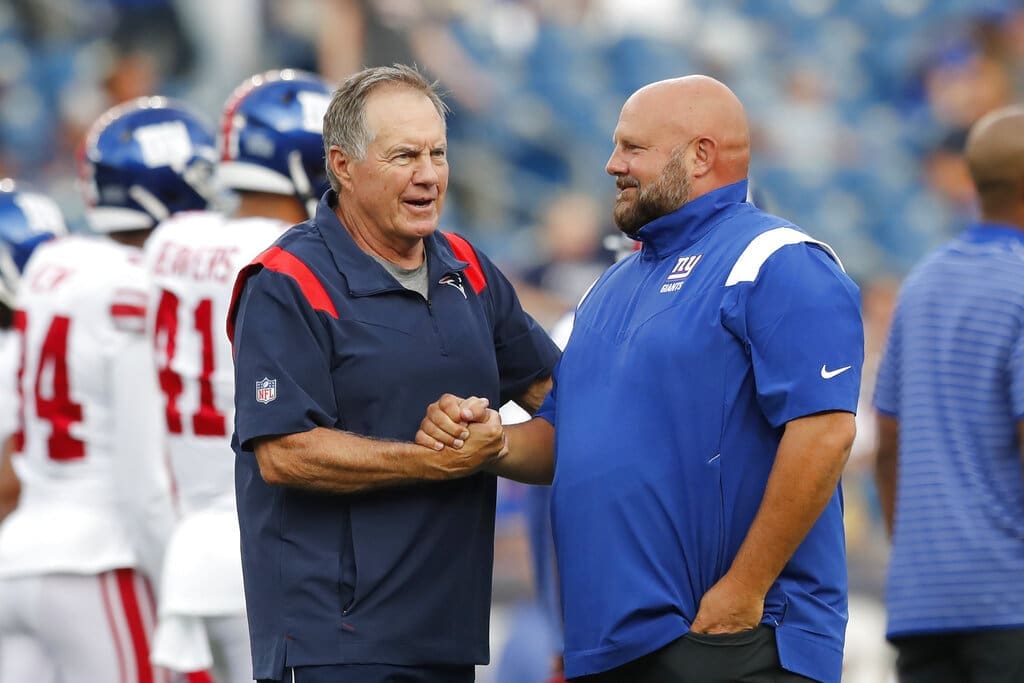 The New England Patriots have their by week this weekend. Their next game will be in eight days when they visit the New York Giants. Both teams are currently 2-8 through 10 games. The Giants visit Washington to take on the Commanders tomorrow afternoon. These two teams have been virtually identical this season, with stagnant offenses and multiple blowout losses. They would both select in the top three if the 2024 NFL Draft were held today.
Unlike Patriots coach Bill Belichick, it does not appear that Giants' HC Brian Daboll's job security is being questioned. They did make the playoffs last season, but it has been an ugly step backwards in 2023. New York QB Daniel Jones is done for the year, and possibly in New York for good if the team opts to replace him in the draft. New England QB Mac Jones might still have a chance to play out the season to save his job.
Either way, this is far from the marquee NFL matchup of Week 12. However, it will have major implications for the 2024 NFL Draft and possibly the future of both teams. Nothing is irrelevant in New England at the moment.
Also in today's Patriots Daily: Barstool Sports Dave Portnoy to sue the NFL?; Joe Flacco to the Browns?; the oldest players in the NFL; and more…
New England Patriots
Patriots Football Now – New England Patriots Offensive Tackle Troubles
Patriots Football Now – Report Card: New England Patriots vs. Indianapolis Colts
PFN+ – 2024 NFL Draft Previews
AFC East News
Buffalo News – New Bills OC Joe Brady faces tough test
ESPN – Dolphins De'Von Achane's will impact strategy when he returns
The Jet Press – Where did it all go wrong for former Jets RB Michael Carter
NFL News
Yahoo! Sports– Dave Portnoy says he's suing NFL over Joe Burrow injury report controversy
NFL.com– Browns host free agent QB Joe Flacco as possible Deshaun Watson replacement
Yardbarker – The greatest QB season for every NFL franchise
Boston Bruins
Go over to our sibling site Boston Hockey Now to check out the great Boston Bruins coverage from Jimmy Murphy and the BHN team. The NHL season is underway and there is plenty happening in the Bruins 100 Anniversary season.
Subscribe here or at BHN to get a subscription to both sites. Subscribers get bonus coverage such as NFL Draft scouting reports and weekly NFL Power Rankings. It also provides a completely ad-free experience on the sites.
Use code KELLEY10 and get $10 off a yearly subscription. It is less than $2.50/month!
Fun Fact of the Day
Seattle Seahawks have signed veteran OT Jason Peters to their active roster. This makes the 41-year old the oldest NFL player in 2023. Former Patriots PK Nick Folk (now with the Titans) and Patriots ST Matthew Slater, both 37, are fifth and seventh respectively.
Tweet of the Day
Today's Tweet of the Day comes from Amelia Probst, who breaks down how the salary caps of NFL franchise have been affected by injuries in 2023…
I feel like there have been so many injuries this year, so I wanted to look into what percentage of the cap they are. This is my first iteration – I'll include players who were on IR short term in the future. Thanks to @PFF_Brad for the help! pic.twitter.com/nhuUQKGQn7

— Amelia Probst (@ameliaprobst) November 17, 2023