Patriots Daily: Last Place in the AFC; Kirk Cousins Replacement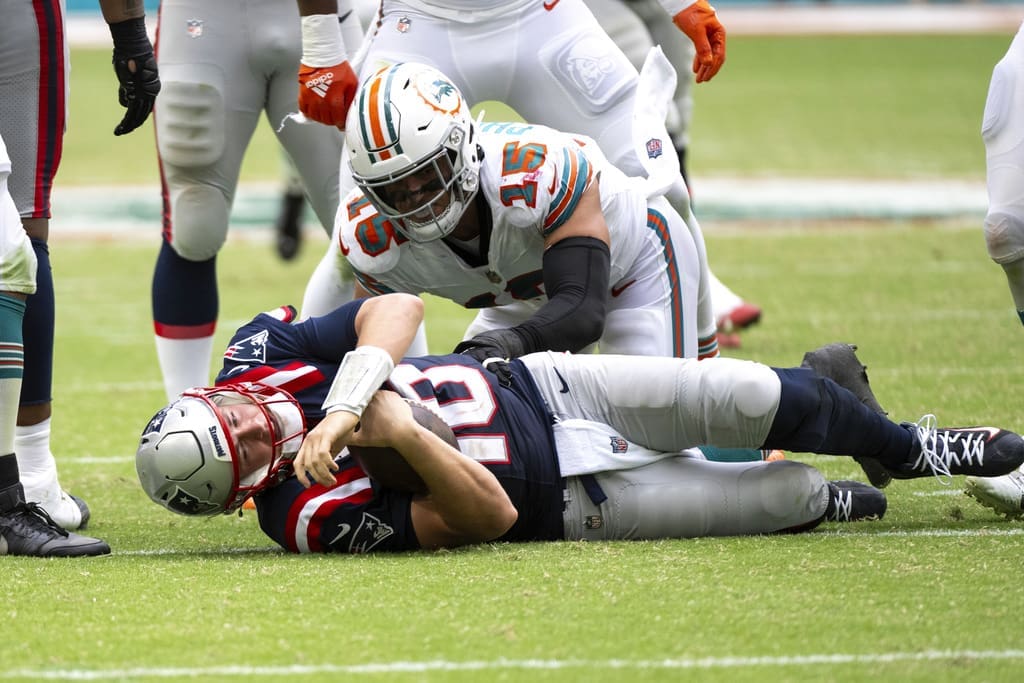 With yesterday's New England Patriots loss in Miami their record now sits at 2-6 through eight games. Of the 16 AFC teams, that record puts the Patriots in dead last. Although the thought here has been (and remains) that New England will not tank, it appears they could still end up with the high draft pick some fans are hoping for despite trying their best.
There are nine games still to play for New England (10 for some others) but no other AFC team only has two wins so far. There are five teams with three wins (Chargers, Colts, Raiders, Texans, Titans) but Las Vegas could add a fourth tonight on Monday Night Football.
Unfortunately for New England Patriots fans hoping to land a high pick, the NFC is in significantly worse shape. Both the Cardinals and Panthers have one win. There are there NFC teams with two (Bears, Giants, Packers) and three others with three.
So, we have learned that the AFC as a whole is the superior conference so far in 2023. And we have learned that being the worst team in the AFC still might not be bad enough to land a top five pick int he 2024 NFL Draft.
Also in today's Patriots Daily: 2024 NFL Draft preview, NFL Trade Deadline talk, Kirk Cousins, Will Levis, and more…
New England Patriots
Patriots Football Now: Breakdown of the Dolphins 31-17 win over the Patriots yesterday
Patriots Football Now – Fun Facts from the Patriots-Dolphins rivalry
PFN+ – 2024 NFL Draft Preview: Top Tight Ends
AFC East News
NFL.com – Buffalo Bills HC Sean McDermott "that's the offense I'm used to seeing"
ESPN – Miami Dolphins WR Tyreek Hill surpasses 1,000 yards in eight games
NewYorkJets.com – Recap of the New York Jets OT win over the New York Giants
NFL News
Vikings Wire – 11 QB's the Minnesota Vikings can acquire after QB Kirk Cousins injury
Yahoo! Sports – Tennessee Titans QB Will Levis has a four touchdown passes in NFL debut
Bleeding Green Nation – Philadelphia Eagles WR A.J. Brown deserves NFL MVP consideration
Boston Bruins
Go over to our sibling site Boston Hockey Now to check out the great Boston Bruins coverage from Jimmy Murphy. and the BHN team. The NHL season is underway and there is plenty happening in the Bruins 100 Anniversary season.
Subscribe here or at BHN to get a subscription to both sites. Subscribers get bonus coverage such as NFL Draft scouting reports and weekly NFL Power Rankings. It also provides a completely ad-free experience on the sites.
Use code KELLEY10 and get $10 off a yearly subscription!
Fun Fact of the Day
This is an update on a previous Fun Fact of the Day: The NFL record for yards lost on sacks in a season is 489, set by Randall Cunningham of the Philadelphia Eagles in 1986. Through eight games in 2023, the NFL leader in this category is Sam Howell of the Washington Commanders with 276 yards lost. This puts Howell on pace to lose 587 over the course of the season, shattering Cunningham's record.
Tweet of the Day
Today's Tweet of the Day comes from New England Patriots salary cap expert Miguel Benzan (@patscap). With the struggling Patriots already looking out of contention, a breakdown of the money the Patriots will potentially have available in 2024 cap space, including to spend in NFL Free Agency. (Note: the Patriots will have a lot of quality players to replace, detailed here):
This week's projection of the Patriots' 2024 salary cap space number. Am projecting Patriots will sign all of their practice squad to future deals after the season so they will have at least 51 players on their roster in March. pic.twitter.com/qfOYRlrwPp

— Miguel Benzan Patriots Cap Space is 3,038,983 (@patscap) October 30, 2023