Jamie Collins Announces NFL Retirement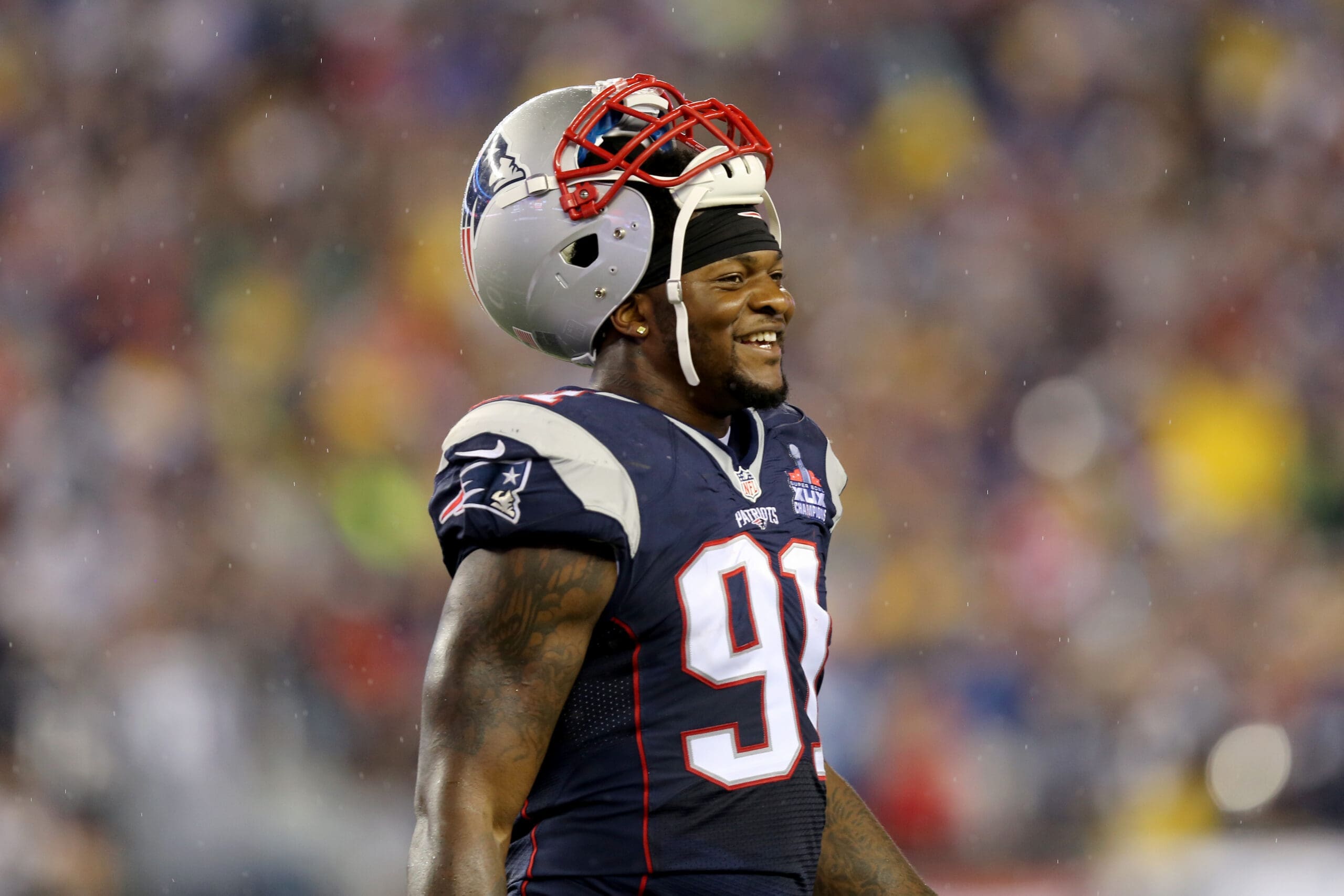 After a 10-year NFL career, which included three separate stints with the New England Patriots, Super Bowl champion Jamie Collins has called it a career.
Caollins was the New England Patriots first pick, number 52 overall, in the 2013 NFL Draft. He played his college football for Southern Miss. As a senior he led Conference-USA in tackles for loss and forced fumbles. At 6-foot-3 and 250 pounds, his athleticism was off the charts for a player his size.
New England Patriots (2013-2016)
He joined a defense in New England that already included Vince Wilfork, Donta' Hightower, Chandler Jones, Rob Ninkovich, Jerod Mayo, Devin McCourty and Aqib Talib. Collins main contributions as a rookie came on special teams, but he managed to earn a share of defensive snaps as well.
In Jamie Collins second year in the NFL, he was a full-time starter for the New England Patriots defense. He finished the season with 110 tackles, 4.0 sacks, 10 QB hits, eight tackles for loss and four forced fumbles. He dwarfed his rookie year numbers across the board. Those 2014 New England Patriots would go on to win the franchise's first Super Bowl in a decade and fourth overall. Just two year into his NFL career, Jamie Collins was a Super Bowl champion.
In 2015, the Patriots were unable to repeat as champs, but Collins was even more impressive individually. For the year he had 89 tackles, 5.5 sacks, six passes defended, eight tackles for loss, and scored a touchdown. Collins also led the entire NFL with five forced fumbles. He did all this despite missing four games in the middle of the season. For his efforts, Collins was selected to the Pro Bowl and was named second team All Pro.
That season would also see Jamie Collins make the NFL all-time highlight reel. In a game against the Indianapolis Colts, Collins leaped over the entire line to block an Adam Vinatieri extra point attempt. By 2017 the play would be banned by the NFL.
Jamie Collins hops over o-line like a bunny rabbit to block Colts' extra point attempt: http://t.co/Rzv508iC12 pic.twitter.com/jkYCrqW6W4

— SB Nation (@SBNation) October 19, 2015
Collins started the 2016 season with New England, but he would finish it elsewhere. On Oct. 31, 2016, Bill Belichick traded Jamie Collins to the Cleveland Browns for a third-round pick. The move was stunning. Jamie Collins was a Pro Bowl player the year before and had just turned 27 that month.
It was assumed Collins would be lost in free agency after the 2016 season due what he would command on the open market. But losing a player of his caliber with no immediate return was a head scratcher for a team with Super Bowl aspirations. Fans and media criticized Belichick heavily for the move. But the New England Patriots managed to go on and win their second Super Bowl in three years despite Collins departure.
Cleveland Browns (2016-2018)
The Browns locked up Jamie Collins before he could become a free agent. He signed a four-year $50 million deal with Cleveland, with $28 million guaranteed.
Away from Foxboro, Collins did not experience the same level of team success. His 2017 season also forced him to deal with missing a significant number of games. He missed three games early in the season due to a concussion. He returned and played in four games before an MCL injury sidelined him for the remainder of the season. In his first full season after signing his new contract, Collins was able to play in only six games.
But after having time to rehab and recover, Jamie Collins resumed being a difference-maker on defense. He led the Browns with 104 tackles, 73 solo tackles and 13 tackles for loss. He also added 4.0 sacks. Despite missing 10 games the season before, Collins had seemingly returned to full strength.
The Browns released Collins following the season, despite his excellent play. It was strictly a cost-cutting move for Cleveland to create more cap space.
New England Patriots (2019)
Free to choose where he wanted to play in 2019, Jamie Collins returned to New England. He signed a one-year deal to play for the franchise where he got his NFL start.
The 2019 season was a very productive one for Collins. He registered 81 tackles, 10 QB hits and 10 tackles for loss. He also recorded career highs in both sacks (7.0) and interceptions (three). After one season with the Patriots, he hit free agency once again.
Detroit Lions (2020-2021)
Collins signed a three-year $30 million deal with the Detroit Lions, with $18 million fully guaranteed. This was a handsome raise after showing he could still produce on his one-year deal in New England.
Going to Detroit reunited Jamie Collins with Matt Patricia. The Lions head coach had been the New England Patriots defensive coordinator during his first stint in Foxboro. Detroit had been hoping to bring New England's winning ways over to them in the NFC. In addition to Patricia and Collins, the Lions brought in former Patriots Trey Flowers, Danny Amendola, Duron Harmon, Danny Shelton and Justin Coleman.
The Lions were unable to duplicate the success of the Patriots, but it wasn't because of Jamie Collins performance. He led the team with 101 tackles and three forced fumbles. It was the fourth season of his career in which he registered at least 100 tackles in a season. The losing led to Matt Patricia's departure. He was fired 11 games into the season after a 4-7 start.
With both GM Bob Quinn and Matt Patricia being let go by Detroit, the contingent of Patriots players they brought in soon followed. Just two games into the 2021 season Collins was released by the Lions.
New England Patriots (2021-2022)
After being freed by the Lions, Jamie Collins landed back with the Patriots for a third time in 2021. He was not the star he once was in New England, but he was still a useful contributor. Collins played in 10 games for the Patriots, helping them earn a playoff berth.
The following year, Collins appeared in only three games. He bounced between the practice squad and active roster throughout the year. It would wind up being the final year of his career.
Legacy
Jamie Collins played 10 years in the NFL, with seven spent as a member of the New England Patriots. During the time Collins played in the NFL (2013-to-2022) he finished among the top 25 in tackles, tackles for loss and forced fumbles. Today he retires as a Pro Bowl player and a Super Bowl champion.
Now that the book is officially closed on Jamie Collins as a player, the next chapter of his young life begins. The guess here is there will be plenty of additional highlights ahead.