Mac Jones Needs to Take Tua's Chip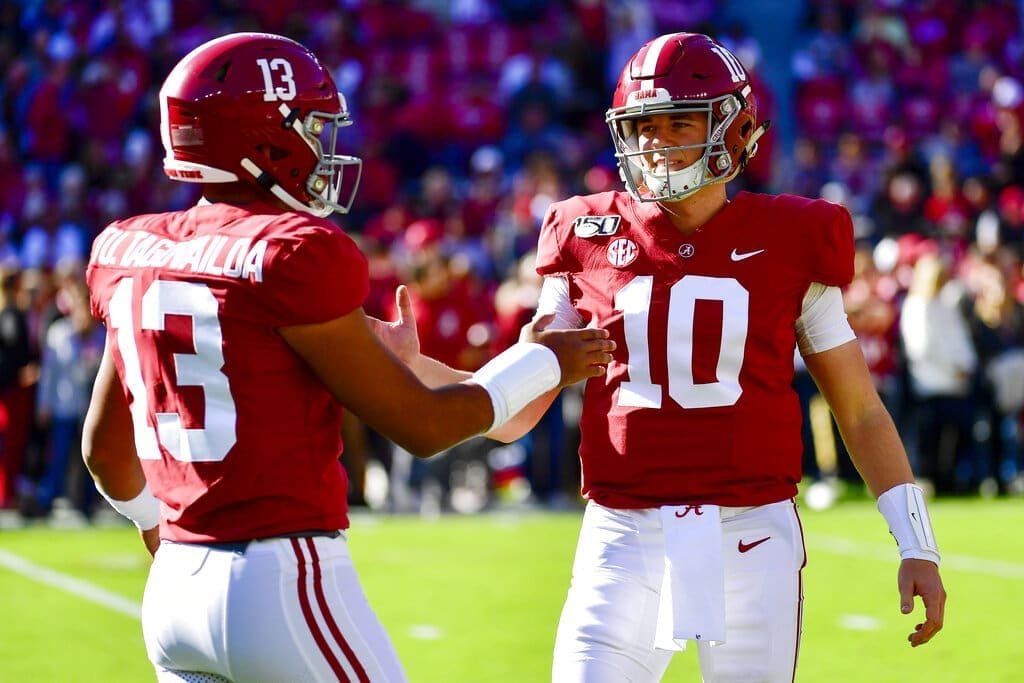 New England Patriots face a familiar foe Sunday night with the Miami Dolphins visiting Foxboro. Patriots quarterback Mac Jones will also have plenty of familiarity with his Dolphins counterpart, Tua Tagovailoa. The former college teammates at Alabama have become AFC East rivals in the NFL. And just as Jones followed Tagovailoa's lead in winning a National Championship with the Crimson Tide, he'd be well-served to follow his example from Week 1 of this season.
Tua Tagovailoa was named AFC Offensive Player of the Week for his 2023 season opening performance. The Dolphins southpaw QB was outstanding in a 36-34 road win over the Chargers. He finished the day 28-for-45 with 466 passing yards, three touchdowns and an interception. But more than the mere numbers, what made the game special for Tagovailoa was the way he performed while playing with a huge chip on his shoulder.
Los Angeles Chargers quarterback Justin Herbert was taken just one pick after Tagovailoa in the 2020 NFL Draft. In their first three NFL seasons, Herbert has been both healthier (13 more games) and more productive. Herbert was the 2020 NFL Offensive Rookie of the Year. In their first three pro seasons, Herbert had 6,074 more passing yards and 42 more touchdown passes than Tagovailoa. And though both teams made the 2022 postseason, Miami's quarterback was forced to watch from the sidelines, out injured.
All of this added up to a lot of hot takes over the offseason. Despite neither quarterback having won a single playoff game, some acted as though Tagovailoa over Herbert was one of the worst draft decisions in NFL history. Stephen A. Smith said of passing on Herbert, "you look at it and say damn that was a mistake." His ESPN colleague Ryan Clark took a jab at Tagovailoa's condition, prompting Miami's QB to ask that Clark keep his name out of his mouth.
When Week 1 of the regular season rolled around, the chip on Tua Tagovailoa's shoulder had become quite substantial. He responded with one of the best performances of his young career. In Week 2, Mac Jones would do well to follow suit.
Both quarterbacks were part of the high school Class of 2017. Tagovailoa was a top prospect, who made his mark with Alabama right away. As a true freshman, he came on in relief of Jalen Hurts during the National Championship Game against Clemson. Despite not playing in the first half, Tagovailoa was named Offensive MVP in the 26-23 overtime win.
Jones meanwhile was buried on the Crimson Tide depth chart, in jeopardy of being a career college backup for a program that routinely brought in blue chip recruits. After redshirting his first season in Tuscaloosa, Jones still sat behind Tagovailoa (now the starter) and Hurts in year two.  It wasn't until the end of the 2019 season, with Tagovailoa getting injured and Hurts having transferred to Oklahoma, when Jones finally got his shot. He started the final three games of the season, playing well despite a loss against intrastate rival Auburn.
With Tagovailoa having gone pro after the season, Jones emerged as QB1 in Alabama. He played incredibly well, going on to win the 2020 National Championship. But unlike with his predecessor who had made a splash as a true freshman with the entire country watching, Jones never generated the same level of enthusiasm for his play. When things went well for Alabama, as they often did, Jones' supporting cast of skill position players got most of the credit and attention Future NFL players Najee Harris, Brian Robinson Jr., Jaylen Waddle, DeVonta Smith and John Metchie were just some of the players surrounding Jones.
Under normal circumstances a quarterback throwing for 4,500 yards and 40+ touchdowns on the top team in the country could be expected to easily win the Heisman Trophy. When Mac Jones did just that in 2020, he wasn't even the top vote getter from his own team, as DeVonta Smith took home the hardware.
When the 2021 NFL Draft came, Jones was once again an afterthought. Unlike Tagovailoa, who was the second quarterback and fifth player taken overall in 2018, Jones fell to #15, the fifth QB selected.
Since entering the NFL the former teammates have met three times, with the Dolphins winning each game. Jones did help lead New England to a win over Miami last season, though Tagovailoa was out injured. Likewise, Tagovailoa has a win over the Patriots when Jones was still in college, making him 4-0 vs Bill Belichick and company in his career. Although Jones has arguably outplayed Tagovailoa in two of their three head-to-head battles, he has failed to emerge victorious in any of them.
Tonight, the New England Patriots will be in great shape if Mac Jones is able to emulate Tua Tagovailoa's performance from a week ago. Just as Tagovailoa was able to temporarily silence many of his critics, by outperforming Justin Herbert, Jones could do the same with a signature performance in Week 2.