The End of Zappe Mania? Patriots Carry Only One QB After Cutdown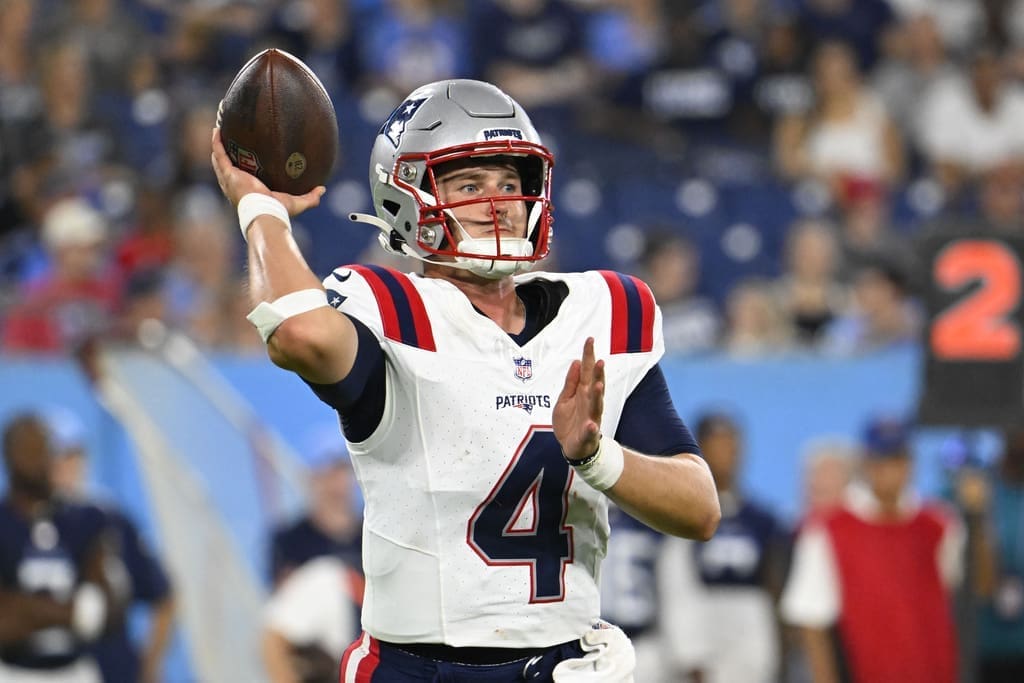 The biggest surprise of the New England Patriots' 2023 Cutdown Day was coach Bill Belichick opting to keep only one quarterback, Mac Jones, on the initial 53-man roster. Although players can still be brought back if they clear waivers, and many of yesterday's disappointed Patriots hopefuls likely will be, the willingness of Belichick to expose backup quarterback Bailey Zappe to waivers was a surprise.
Following some uninspired play by the Patriots' offense early last season, the Foxboro faithful grew restless. Offensive coordinator Josh McDaniels moved on from Foxboro following the 2021 season to become the head coach of the Las Vegas Raiders. The longtime Patriots OC was replaced by a committee featuring former special teams coach Joe Judge and former defensive coordinator Matt Patricia, responsible for play-calling duties. The lack of a true offensive mind in the coaching room was questioned in the offseason and even more so after a slow start to the regular season.
Media reports, which proved to be accurate and not simply the negative clickbait some assumed, repeatedly opined that the Patriots' offense looked extremely poor in camp, with a clear lack of cohesion regarding how things were being run.
New England's 2022 season began with a 20-7 loss in Miami, followed by a tight 17-14 win over the Pittsburgh Steelers. The Patriots were then tidily trounced 32-22 in their home opener against the Ravens in Week 3, falling to 1-2 on the season. Jones completed over 68% of his passes against Baltimore, for 321 yards, but his detractors (which were rapidly growing) noted the 3 interceptions while failing to toss a touchdown pass. To make matters worse, Jones was injured in his final pass attempt in the Baltimore game, which happened to be an interception, and missed multiple games. Despite having a historically good rookie season in 2021, Jones' sophomore totals were stagnant, with two touchdowns, five interceptions, and 786 yards passing.
The Patriots veteran backup QB, Brian Hoyer, got the nod in Week 4 against the Packers in Green Bay. Hoyer, however, was injured as well, and suddenly, the hopes of Patriots Nation were resting with a rookie fourth-round pick out of Western Kentucky named Bailey Zappe.
Even at the time of the selection, some questioned the Zappe pick. Despite his stellar college numbers in 2021 at WKU, there didn't seem to be a need to select a backup for their young quarterback so early. And if they were inclined to select another arm, why pass on UNC QB Sam Howell, who had slipped in the draft, in favor of Zappe? However, with Jones entrenched as New England's QB1 and Hoyer on board as a dependable veteran backup, not much mind was given to rookie, positive or negative, once the season was underway. But with both Jones and Hoyer now sidelined, that soon changed in a major way.
Although Zappe could not lead the Patriots to victory over the Packers, he made quite an impressive first impression. He appeared to breathe some much-needed life into a stagnant offense. So, despite ultimately losing the game in overtime, the blame was not placed at the feet of the third-string rookie, who had come off the bench and performed admirably.
Over the next two games, Zappe impressed, while the Patriots were successful, too. The Patriots reeled off consecutive wins with Zappe as their starting quarterback, taking down Detroit at home (29-0) before crushing Cleveland on the road (38-15) to improve to 3-3.
The Patriots, who scored just 50 points in Jones' three starts, posted 67 in Zappe's two starts. Nobody seemed to care that the defense and rushing game accounted for four of their seven touchdowns against in these games or that the defense looked awesome in both. Just as an NFL QB gets a disproportionate amount of the blame when things go poorly, they are also often given a disproportionate amount of the credit when things are going well. And there was no disputing that things were going well for New England with Zappe on the field.
Zappe became the first QB to win his first two NFL starts and posted a QB Rating of 100+ in each game in the Super Bowl Era. The most recent NFL QB to do so had been Kyle Allen, who's performances had been spread over two seasons (2018 and 2019) with the Carolina Panthers. Zappe-Mania was officially in full swing!
Perhaps prompted by the prospect of losing his job while sitting on the sideline, as Wally Pipp had once famously done with the New York Yankees, or more recently Drew Bledsoe for these very same New England Patriots, Jones came back sooner than many expected. He was named the starter once again, ready to face off against the Chicago Bears on Monday Night Football after a shorter than anticipated 3-week hiatus.
The game against the Bears was a golden opportunity for Jones to make a statement. He was playing at home on national TV against the team that traded up to jump the Patriots in the 2021 NFL Draft and select Justin Fields instead of him.
It was a rare opportunity for a 3-3 team to have a "statement game" against a 2-4 non-conference opponent.
Unfortunately for Jones, he failed to make a statement. The Patriots fans wasted no time letting him know he was no longer their preferred QB. Chants of "Zap-pe! Zap-pe" rained down early and often. Fans got their wish when Bailey Zappe entered the game with 11:55 remaining in the second quarter. The Patriots trailed 10-0 when Zappe entered, but just two drives, spanning seven offensive snaps later, the Pats had a 14-7 lead! Zappe had gone 4-for-4 for 97 yards and a touchdown.
Zappe-Mania was officially at a fever pitch.
It would have been almost unfathomable to many as Zappe and his teammates celebrated on the sidelines, with Patriots fans going wild for their new hero. However, things never got better in this young marriage than it was in that moment.
Over the remainder of that MNF game against the Bears, the Patriots offense failed to move the ball into the Chicago territory, except for one play. Unfortunately, the following play was a 10-yard penalty on Cole Strange, and New England was sent back to their side of the 50-yard line. After his torrid start, Zappe was 10-for-18 for 88 yards, no touchdowns, two interceptions, and fumbled once. He had several balls knocked down at the line of scrimmage while looking overwhelmed in the second half.
Zappe, despite being healthy, did not play again in the 2022 NFL season.
After the Patriots failed to make the 2023 NFL Playoffs with an 8-9 record, 5-5 following the Monday Night Football game against the Bears, talk of whether or not they'd be better off moving on from Jones resurfaced. There were several issues with the 2022 New England offense, from playcalling to protection to playmakers; none received as much attention as Jones. Zappe led the Patriots to 29 and 38 points, respectively, in his two starts.
So how could the same squad led by Jones not score more than 24 points in his 14 starts?
Bill O'Brien was hired to be the New England Patriots' new offensive coordinator, and with him came the expectation that the offense would look significantly better in 2023. Jones appeared much more comfortable during training camp than under the previous tutelage. Zappe began the offseason rumored to be "not far behind" Jones. Bill Belichick did nothing to squash those rumors by responding that "everyone is competing" when urged by reporters to proclaim a starting quarterback on Aug. 1.
Over the next month, the reports from all who witnessed camp made it quite apparent that Jones was the superior quarterback in O'Brien's offense; Jones was clearly QB1 when the regular season got underway. Even those in the Boston sports media, including those rooting for a quarterback controversy, were either resigned to the obvious or largely ignored.
Nobody projected Zappe would not make the Patriots' 53-man roster. When Zappe was cut, there wasn't even a fallback plan for the backup job. Rookie QB/WR/ST Malik Cunningham was also part of the Patriots' final cuts.
Although there is still a possibility that Zappe will soon be back as a member of the Patriots, Belichick was willing to risk losing Zappe on waivers without any return.
Roughly 10 months after Zappe-Mania had reached its apex in Foxboro, at least those making roster decisions are free of it.