Patriots Daily: Pats Lose Patrick Taylor; Eagles Beat Chiefs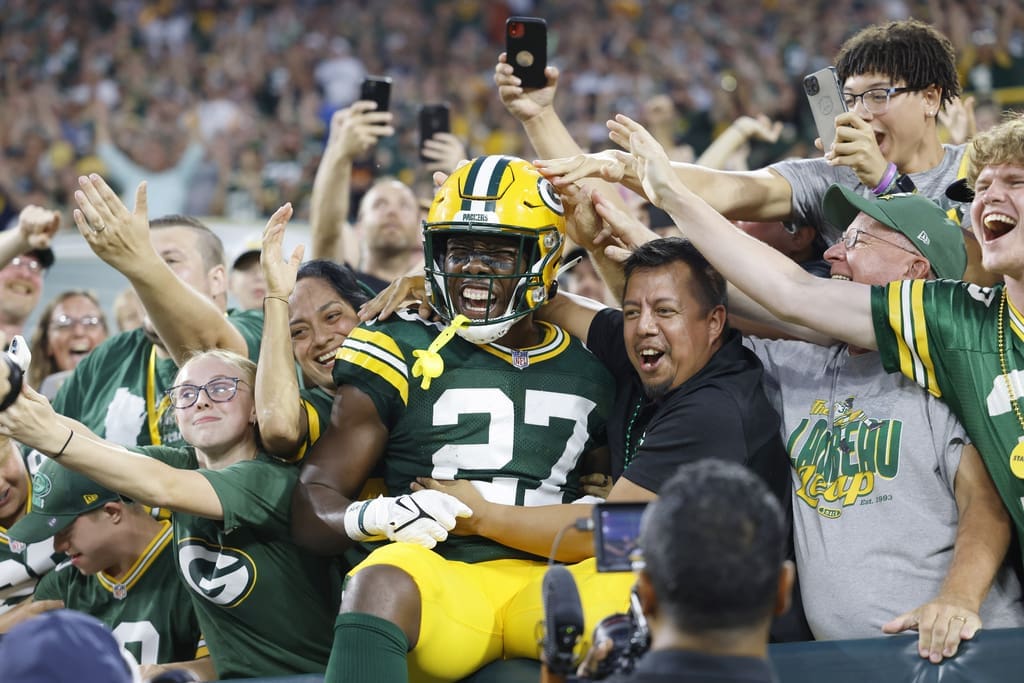 The Green Bay Packers have signed RB Patrick Taylor off the New England Patriots practice squad. Taylor signed with the Patriots on Oct. 18, 2023 after he'd been released by the Packers.
Prior to his release, Taylor had spent his entire NFL career with Green Bay. He signed with them as an UDFA after the 2020 NFL Draft. In his four seasons with the Packers, he played in 28 games, including four this season before being waived. Due to joint practices in preseason, New England had become familiar with Taylor.
At 6-foot-2 and 217 pounds, Patrick Taylor had been described by one NFL Draft report as being "built like a comic book hero." Green Bay brought Taylor back due to depth issues in the running back room. RB Aaron Jones has a hamstring injury. The Packers play on a short week; they play the Lions on Thanksgiving. Bringing in a player they are familiar with makes sense.
Also in today's Patriots Daily: Zach Wilson no longer QB1 for the Jets; Jevon Carter close to all-time highlight; Russell Wilson's impressive turnaround in Denver; and more…
Patriots Football Now
PFN – First Look: New England Patriots 2024 Offense
PFN – Bill O'Brien: Patriots Starting Quarterback Is up to Bill Belichick
Poll – Who Should be the Patriots Starting QB on Sunday?
PFN – Kelley: Can Mac Jones in New England be Salvaged?
PFN+ – 2024 NFL Draft Previews
AFC East News
ESPN – Bill Dion Dawkins rips 'disrespectful' Jets after tunnel spat
Dolphin Nation– Former Dolphins QB would be surprised to see Miami in the Super Bowl
NFL.com – Jets to start Tim Boyle over Zach Wilson vs. Dolphins
NFL News
Video – Philadelphia rookie Jevon Carter almost intercepts Patrick Mahomes spike on MNF
ESPN– Eagles unsatisfied after winning Super Bowl matchup vs. Chiefs
Yardbarker – Broncos Russell Wilson reestablishing himself as a franchise QB
Boston Bruins
Go over to our sibling site Boston Hockey Now to check out the great Boston Bruins coverage from Jimmy Murphy and the BHN team. The NHL season is underway and there is plenty happening in the Bruins 100 Anniversary season.
Subscribe here or at BHN to get a subscription to both sites. Subscribers get bonus coverage such as NFL Draft scouting reports and weekly NFL Power Rankings. It also provides a completely ad-free experience on the sites.
Use code KELLEY10 and get $10 off a yearly subscription. It is less than $2.50/month!
Fun Fact of the Day
Four NFL receivers have already surpassed 1,000 yards receiving this season. The record for most players with 1,000 yards receiving in a season is 29, accomplished in 2019. Last season there were 22.
Tweet of the Day
Today's Tweet of the Day comes from David Wade, with an honest assessment of the New England Patriots relationship with the NFL over the years…
If the Patriots came up with a "Brotherly Shove" type play 10 years ago, it would have been banned.

— David Wade (@davidwade) November 21, 2023