Bill O'Brien: Patriots Starting Quarterback Is up to Bill Belichick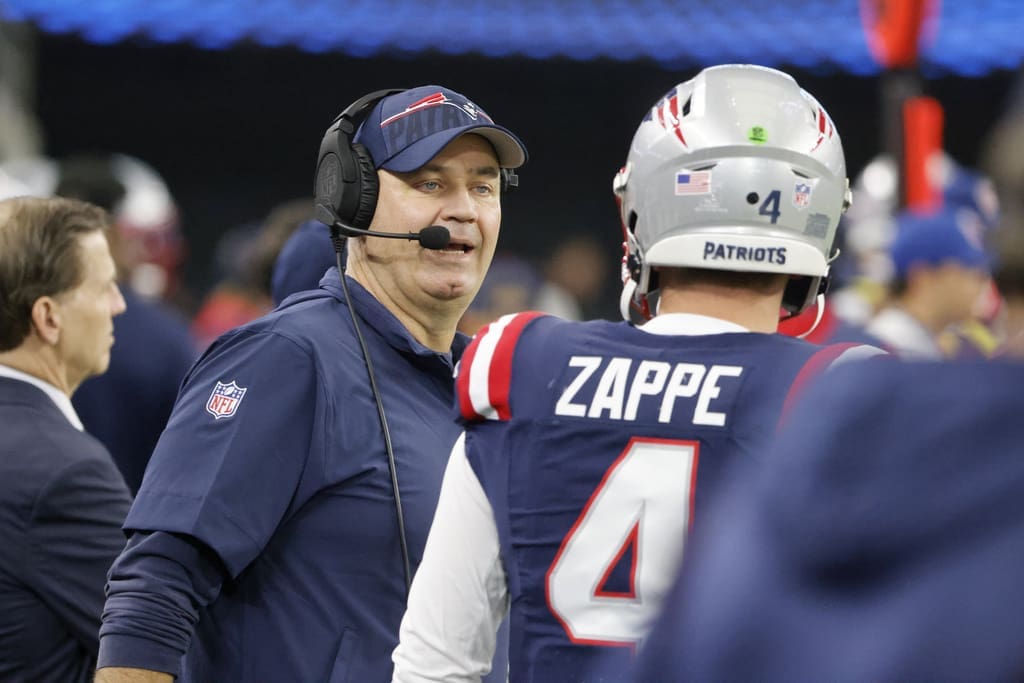 The New England Patriots might be ready to move on from Mac Jones as their starting quarterback. However, offensive coordinator Bill O'Brien says that decision will be made by head coach Bill Belichick. However, O'Brien did drop some hints that made it sound like a two-man race between Mac Jones and Bailey Zappe.
O'Brien emphasized that he believed the person who practiced the best would play the most.
"One of the reasons why I really enjoy coaching here is because you have to earn it on the practice field. You earn it on the practice field by quality reps. You have to strive for perfection on the practice field. You're not going to reach perfection on the practice field, but you're going to strive for it, and try to execute at a high level. And hopefully that leads to good execution in the games. Right now, we haven't had consistent enough execution in the games, obviously."
Could Cunningham Get the Call?
Bill O'Brien would not tip his hand as to who his recommendation to start on Sunday would be. It part, because the decision is not his to make. "I think assistant coaches make recommendations and head coaches make decisions," O'Brien said on Monday. "And so that will be up to Bill (Belichick)."
However, in this instance O'Brien wasn't referring to the starting quarterback job. His response was made to a question about whether practice squad Patriot Malik Cunningham would get a chance to play. But Bill O'Brien's response made it clear Cunningham was not currently under consideration to take over as the team's starting quarterback. The offensive coordinator was referring to Cunningham as a developing receiver.
"Malik's done a really good job. You know, if you think about Malik's background and how far he's come from being a quarterback at Louisville. I actually went and worked him out at Louisville, and I think that's really one of the first times that he's ever really run routes as a wide receiver. So, to make the jump from where we were at that point, which was back pre-draft to where he is now, he's made a lot of improvement."
O'Brien had a lot of praise for Malik Cunningham, but not from the perspective of him being in the mix to take over under center. "He's a great guy to work with. And he's played in a lot of different spots. He's played wide receiver, he's played in the slot, he's played quarterback, he's played in the backfield. He's done a lot of different things, and so he's really improved in all areas."
It appears Malik Cunningham will not be replacing Mac Jones against the Giants.
What About Will Grier?
So who is competing in practice to show what they can do? "The other day at practice, Mac (Jones) took the first team reps. Bailey (Zappe) rotated in there. Will Grier rotated in there, so we'll see."
When asked if it was difficult preparing the team to play without knowing who the starting quarterback was going to be, O'Brien deflected once again, yet seemed to eliminate another quarterback from contention in the process.
"I basically get everybody ready to play. So what we try to do, is every week regardless of this week, two weeks ago, three weeks ago, get Mac ready to play, get Bailey ready to play. And that's what we do. And so, at the end of the day, Bill (Belichick) will make that decision at some point, and we'll go from there."
This reinforced that not only would Bill Belichick make final personnel decision, but he'd be deciding between Mac Jones and Bailey Zappe. When discussing reps in practice, the idea of there only being two candidates was emphasized once again.
"The way that we practice here there's plenty of reps to go around," said O'Brien. "For two guys, there's enough reps to go around where everybody gets a shot at it. These guys run the same offense, they're in the huddle with the same guys."
It appears Will Grier will not be replacing Mac Jones in New Jersey.
Not Everything is on the Quarterback
One point of emphasis for Bill O'Brien was that everybody involved had to do a better job. Although the play from the quarterback position has been lackluster this season, he would not let Mac Jones be a scapegoat for all that ails New England.
"Quarterback and head coach in this business, they get a lot of glory when you win and a lot of grief when you don't win. And that's understandable. Those are the guys at the top there. But at the end of the day there's a lot of other people involved," O'Brien explained. "I also think it's important to point out there's 10 other guys on the field and everybody's got to play better. And then there's coaches on the sideline, we all have to coach better. That's the truth."
O'Brien indicated that he had not lost faith in Mac Jones. "Everything's fixable. I think at times Mac's played really well." Nor would he write off his quarterback's poor play on the yips. "I don't believe in yips or anything like that. Mac has played well. Mac will play well again."
Of course the only way for Mac Jones to play well again is if he is given the opportunity to. Was this Bill O'Brien's way of announcing Jones as Sunday's starter, or just a reporter looking too hard for clues?
No Apologies for Outburst in Germany
Bill O'Brien was asked about the sideline exchange that took place between him and Mac Jones during the Colts game in Frankfurt. O'Brien was seen screaming at Jones after poor play from his quarterback.
"I think that was just coaching in the moment. That's just kind of the way I coach. Sometimes the way to get a point across is to be very demanding and very intense about it. That's just the way I coach, that's who I am. That's how I've always coached. Sometimes that rubs certain players the wrong way, sometimes players want that."
"I think Mac, I don't want to speak for Mac, but I think Mac wants to be coached. He wants to be told 'hey, look this can be better.' And I look for the same thing from the players, 'hey coach, you got to explain that better' whatever it might be. That's just the way I coach, and that's coaching…in my opinion."
Don't Forget the Fans
Although the New England Patriots do their best to block out all distraction from outside the building, Bill O'Brien did make it clear that he was aware of the importance of Patriots fans.
"I do think there's nothing more important when it comes to the outside (of the team) than the fans. I know the fans are really concerned with our team and want us to win. I'm from here. Boston fans are very passionate. I can just tell you we're doing everything we can to turn this thing around. Players are working hard; coaching staff is working very hard."