Fun Facts for Patriots-Colts Matchup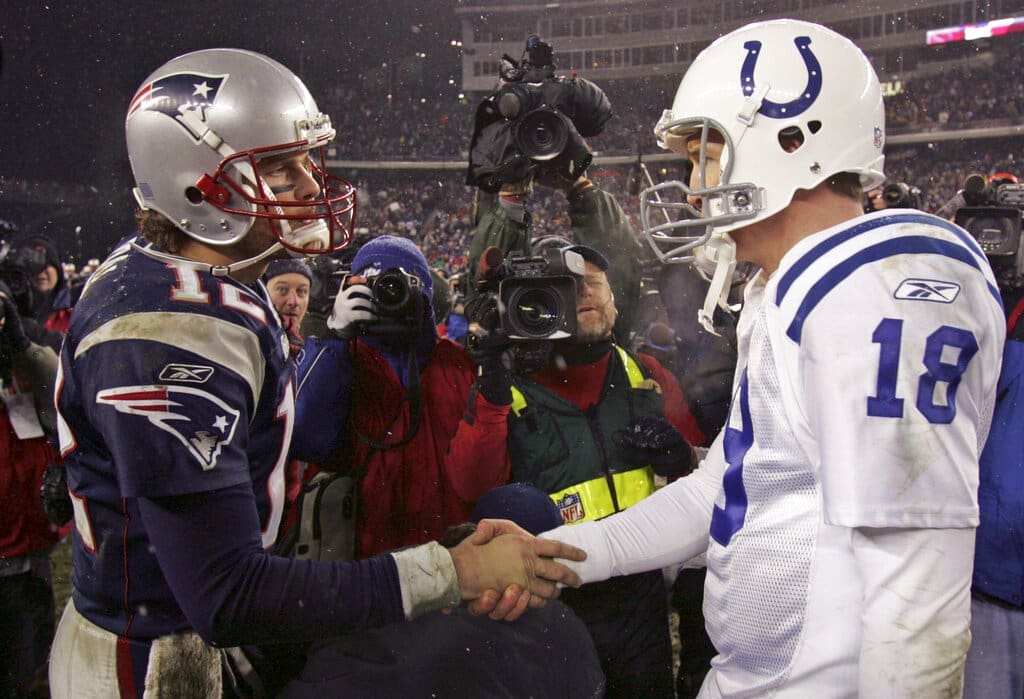 Tomorrow the New England Patriots (2-7) battle the Indianapolis Colts (4-5) in Frankfurt, Germany. There is a lot of history between the squads. From longtime division opponents in the AFC East to the Brady-Manning years and beyond. Many consider to Colts to be the Patriots biggest rival. There have been memorable games, common players, a shared head coach and many NFL legends involved.  Time for this week's edition of Fun Facts…
Common Players
There have been 80 players to play for both the Patriots and Colts. Included among them are New England DL Lawrence Guy and Indianapolis DB Ameer Speed, who has not actually played for the Colts yet. Speed began 2023 with the Patriots, but was claimed off of waivers by the Colts. Perhaps Sunday will be his Indianapolis debut.
The only player to play at least 175 games (including playoffs) for each franchise was PK Adam Vinatieri. He played his first 10 seasons in New England, reaching four Super Bowls and winning three. Vinatieri then played his final 14 NFL seasons in Indianapolis. With the Colts he reached two more Super Bowls and won a fourth championship. He made All-Pro with each franchise.
Former Holy Cross Crusader Al Snyder was the first player to play for both franchises. The wide receiver was a member of the 1964 Boston Patriots and 1966 Baltimore Colts. He played in only seven total games, recording one reception for 12 yards.
Thirteen players have played in multiple seasons for each franchise. In addition to Lawrence Guy and Adam Vinatieri, the other 11 are: Dwayne Allen, Barry Brown, Sergio Brown, Darius Butler, Jim Cheyunski, Phillip Dorsett, Dan Klecko, Trevor Matich, Zefross Moss, Tyrone Poole, and Jabaal Sheard.
Three players have won a Super Bowl as a member of both the Patriots and Colts: Adam Vinatieri, Dan Klecko, and Dexter Reid.
Other active NFL players to play for both franchises include: Henry Anderson, Jacoby Brissett, Byron Cowart, Carl Davis, Sean Davis, Stephon Gilmore, and Brian Hoyer.
Common Coaches
Ron Meyer is the only person to be head coach of both the Patriots and Colts. He was with New England from 1982-to-1984 (18-15 record). Then coached Indianapolis from 1986-to-1991 (36-35). He was 0-1 in the playoffs with each franchise.
Pro Football Hall of Fame wide receiver played his entire career with the Baltimore Colts (1955-1967) and won two NFL Championships. He then spent his entire head coaching career with the New England Patriots (1984-1989) and led them to the 1985 AFC Championship.
Bill Belichick began his coaching career as a special teams assist coach with the Baltimore Colts in 1975.
Head-to-Head Meetings
In the 83 previous meetings between the Patriots and Raiders, New England owns a 53-30-0 advantage. This includes five playoff matchups, where the Patriots enjoy a 4-1 advantage.
The first game was on Oct. 4, 1970 at Harvard Stadium. The Baltimore Colts beat the Boston Patriots 14-6. Earl Morrall and Johnny Unitas each threw a touchdown pass for the Colts. Gino Cappelletti hit two field goals for the Patriots, including a 13-yarder. Ron Sellers had 108 yards receiving for Boston.
The most recent meeting took place Nov. 6, 2022. New England won 26-3. The defense was led by Matthew Judon (3.0 sacks), Josh Uche (3.0 sacks), Ja'Whaun Bentley (10 tackles, sack), and Jonathan Jones (pick-six).
Their three AFC Championship Games have all been memorable:
2003  – Patriots win 24-14. Peyton Manning throws four interceptions, three to Ty Law.
2006  – Colts win 36-34. Overcome 21-6 halftime deficit. Center Jeff Saturday scores game-winning touchdown on fumble recovery.
2014 – Patriots win 45-7. LeGarrette Blount rushes 30 times for 148 yards and three touchdowns in "Deflategate" game.
Trade History
The Patriots and Colts franchises have not always had the warmest relationship, as evidenced by them making zero trades for 32 years (1985-to-2017). The only two trades before 1985 were when the Colts were still in Baltimore. Since the trade embargo was lifted there have been three trades:
Mar. 9, 2017 – New England trades a fourth-round pick to Indianapolis for TE Dwayne Allen and a sixth-round pick
Sept. 2, 2017 – Patriots trade QB Jacoby Brissett to the Colts for WR Phillip Dorsett
Apr. 25, 2020 – Traded two sixth-round picks to move up in the sixth round and select OL Mike Onwenu
Statistical Leaders in the Patriots-Colts Series
Passing Yards
5,215 – Peyton Manning, IND
Passing Touchdowns
38 – Tom Brady, NE
38 – Peyton Manning, IND
Passing Interceptions
29 – Peyton Manning, IND
Rushing Yards
1,067 – Edgerrin James, IND
Rushing Touchdowns
8 – LeGarrette Blount, NE
Receptions
118 – Marvin Harrison, IND
Receiving Yards
1,615  –Stanley Morgan, NE
Receiving Touchdowns
14 – Marvin Harrison, IND
Points Scored
221 – Adam Vinatieri, NE (146 for NE; 75 for IND)
Tackles
95 – Tedy Bruschi, NE
Sacks
19.5 – Andre Tippett, NE
Interceptions
7 – Ty Law, NE (2 for touchdowns)