Fun Facts for Patriots-Dolphins Matchup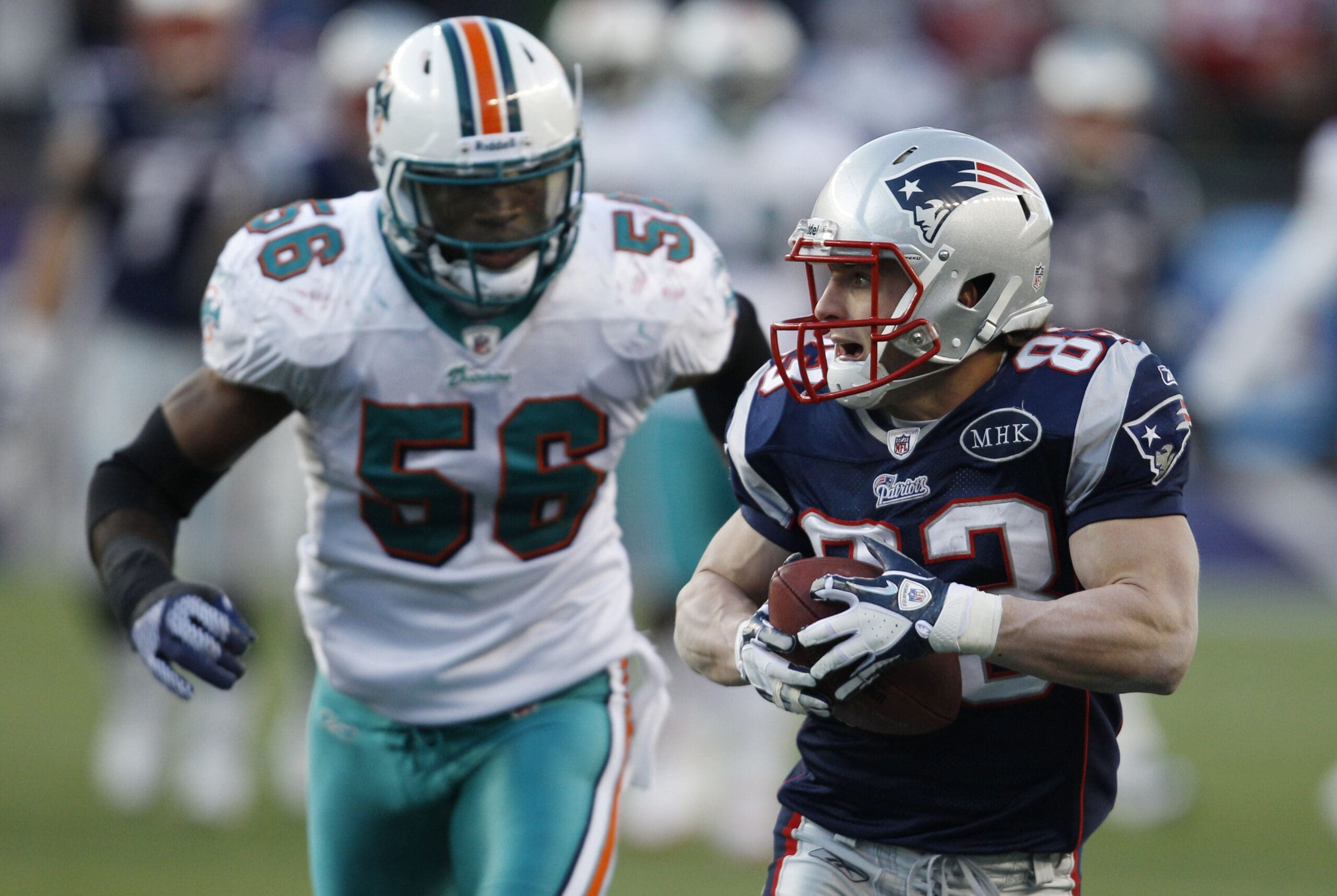 Today the New England Patriots (2-5) hit the road to take on the Miami Dolphins (5-2). Both franchises were AFL teams back in the 1960's and have a lengthy history. The franchises have met 116 times,, including three in the postseason. Aside from their many mathups, what do these teams have in common? Time for this week's edition of Fun Facts…
Common Players
There have been 110 players to play for both the Patriots and Dolphins. Among them are New England's Mike Gesicki and Davon Godchaux, and Miami's Jake Bailey and Isaiah Wynn.
Two former Boston Patriots players were on the original Miami Dolphins 1966 team: OG Billy Neighbors and LB Jack Rudolph.
Twenty-seven players have played in multiple seasons for each franchise, including Pro Football Hall of Fame LB Nick Buoniconti.
Nick Buoniconti is also the only player to play 90+ games for both the Patriots and Dolphins. He made five Pro Bowls with the Boston Patriots. He then went on to made three more Pro Bowls and win two Super Bowls as a member of the Dolphins. His #85 is retired by the Patriots.
Happy birthday in heaven to the Pride of Springfield and the Cathedral High School Panthers, Nick Buoniconti.

— Honest☘️Larry (@HonestLarry1) December 15, 2022
WR Irving Fryar was the first overall pick in the 1984 NFL Draft by the New England Patriots. He played his first nine seasons in New England, making one Pro Bowl as a return specialist. He then played three seasons for Miami, making two more Pro Bowls as a wide receiver.
Among the other notable NFL players to play for both the Patriots and Dolphins are Danny Amendola, Tony Collins, Bryan Cox, Robert Edwards, Tony Franklin, Sammy Morris, Rob Ninkovich, DeVante Parker, Elandon Roberts, Junior Seau, and Wes Welker.
Head-to-Head Meetings
In the 116 previous meetings between the Patriots and Raiders, Miami owns a 61-55-0 advantage. They have met in the playoffs three times, with the Patriots winning twice.
The first game was on Nov. 27, 1966 at the Orange Bowl in Miami. Head coach Mike Holovak led the Boston Patriots to a 20-14 win over George Wilson's expansion squad. RB Jim Nance rushed for 133 yards and a touchdown for the Patriots. WR/PK Gino Cappelletti had three receptions for 76 yards, and also kicked two field goals. LB Nick Buoniconti snagged an interception for Boston. RB Joe Auer had 104 yards receiving for Miami, including a 38-yard reception from QB Dick Wood.
The most recent meeting took place in the second week of this season. Click here for the full recap of the Dolphins win.
Miami has dominated at home. Prior to the 1985 AFC Championship Game in Miami, the Dolphins had beaten the Patriots 16 straight times at home. From 1989–to-2002 they won 12 of the 14 meetings in Miami. And now, the Patriots have lost 8-of-10 on the road to the Dolphins heading into Sunday.
No meeting is more memorable for New England Patriots fans than the 1985 AFC Championship. New England entered the game as massive underdogs, and pulled off their third straight road win in the playoffs to advance to Super Bowl XX. It was the first Super Bowl appearance in franchise history.
Trade History
Most trades between the teams have been for draft picks, or a player for a draft pick. Most of these have been unremarkable (apologies to DeVante Parker) with the exception of one.
In 2007 the New England Patriots traded second and seventh round picks in the 2007 NFL Draft to sign restricted free agent WR Wes Welker. The trade worked out for the Patriots. Welker went on to have a brilliant run in New England. Welker played six seasons in New England (2007-2012). During that time he helped them win two AFC Championships, made four Pro Bowl teams, and was twice voted first team All-Pro.
In Wes Welker's time in New England, he led the entire NFL in receptions (672; 80 more than anyone else) and fourth in receiving yards (7,459). He also scored 38 touchdowns.
Miami used those 2007 picks on OL Samson Satele and DE Abraham Wright.
Wes Welker is currently the wide receivers coach for the Miami Dolphins.
Statistical Leaders in the Patriots-Dolphins Series
Passing Yards
8,185 – Tom Brady, NE
Passing Touchdowns
67 – Tom Brady, NE
Passing Interceptions
46 – Dan Marino, MIA
Rushing Yards
983 – Larry Csonka, MIA
Rushing Touchdowns
11 – Larry Csonka, MIA
Receptions
95 – Wes Welker, NE
Receiving Yards
1,319 – Stanley Morgan, NE
Receiving Touchdowns
14 – Irving Fryar, NE/MIA
Points Scored
200 – Stephen Gostkowski
Tackles
158 – Zach Thomas, MIA
Sacks
13.0 – Jason Taylor, MIA
Interceptions
4 – Duron Harmon, NE
4 – Terrell Buckley, Xavien Howard, Sam Madison, MIA