Where Did Grumpy Old Gronk Come From?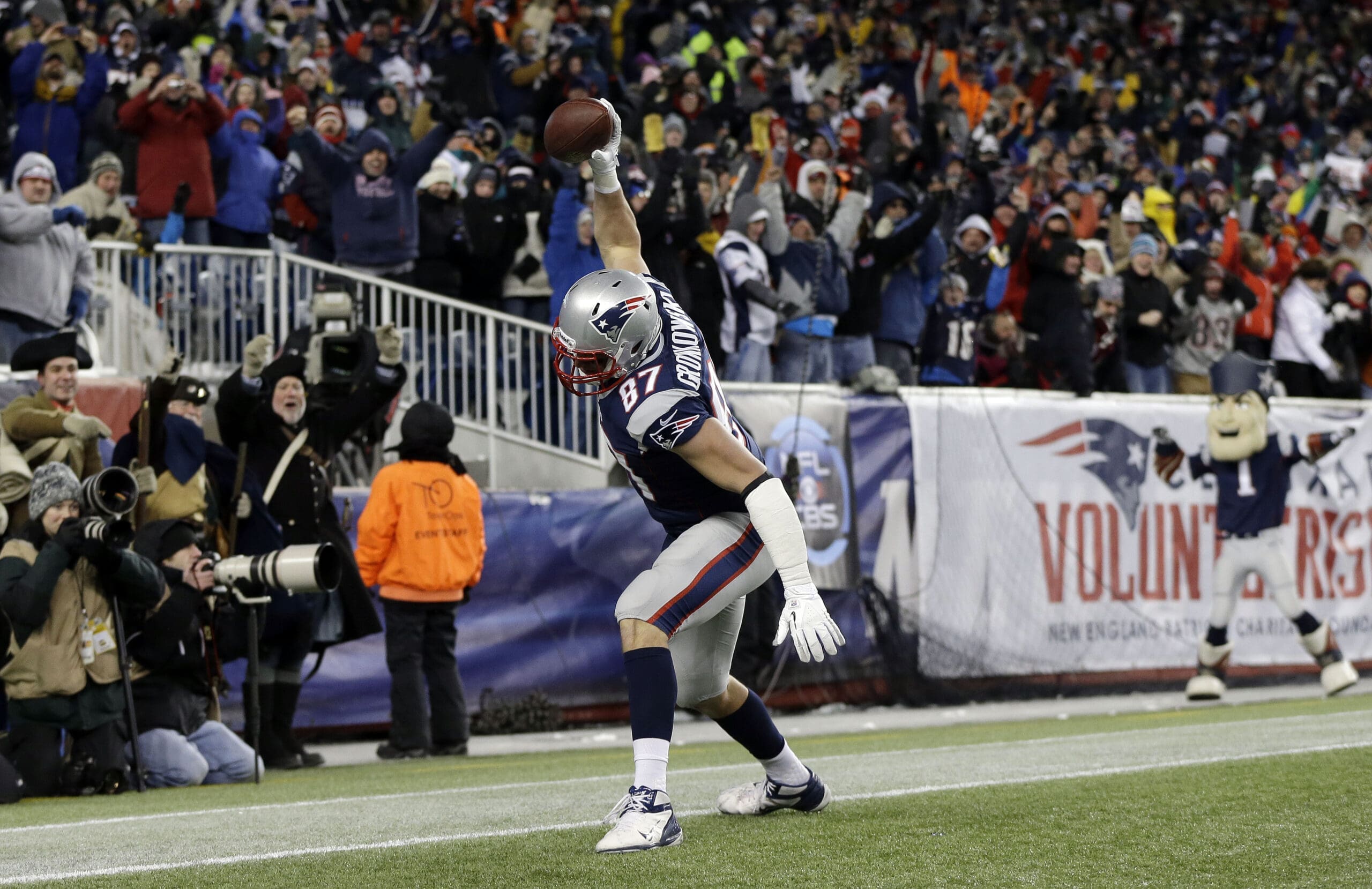 Of every former athlete to turn into a grinch after their playing days were done, Rob Gronkowski might have been the least likely. Few players enjoyed themselves more on or off the field during their NFL careers. Everything seemed celebration worthy, and Rob Gronkowski certainly knew how to celebrate. So, it was shocking to hear the legendary tight end become so judgmental about some genuine enthusiasm from others.
While on the Up & Adams show earlier this week, Gronkowski stated the New England Patriots celebrated their game-winning touchdown over the Buffalo Bills on Sunday way too much for his taste. What?
"If you ask me that celebration was pretty ridiculous Chung," he said to former Patriots teammate Patrick Chung. "Whenever we celebrated just a little bit, we would get hounded. They just won one game and they celebrated like more than we would when we won the Super Bowl. That was one of the most absurd celebrations."
"I'm like 'wow they won a game.' They went that crazy. They acted like they've never been there before."
These comments coming from Rob Gronkowski are absurd on so many levels. For starters, Gronk celebrated being drafted by New England more than most players celebrate winning a Super Bowl. And New England Patriots fans loved him for it.
The moment @RobGronkowski found out he was heading to the @Patriots 😂 @nflthrowback

(by @verizon) pic.twitter.com/sPPt64YbkL

— NFL (@NFL) April 22, 2019
When Rob Gronkowski played in the NFL the celebrations continued. If Gronk scored a touchdown, which he did 107 times in his NFL career, he let everyone know it. His trademark touchdown spike celebrations were over the top and put an exclamation point on each score. Patriots fans absolutely adored him for this as well.
There are countless videos on YouTube just devoted to Rob Gronkowski's touchdown celebrations. This includes one from the official NFL YouTube channel, which is worthy watching. If people can watch those celebrations and then comprehend where Gronkowski's comments come from, please pass along the info.
For his part, Patrick Chung defended the 2023 New England Patriots enthusiasm.
"Times are different Gronk, you know that. Younger kids. But at the same time bro, division win. Very much needed. So that's a big booster for the team," Chung replied. "So, whatever they got to do, celebrate all you want to, just win some more games."
While he did not criticize the team's enthusiasm, Patrick Chung was not accurate about everything. Times are not different, as evidenced in part by Gronkowski the player. And before Gronk there was Prime Time, the New York Sack Exchange, Washington's 'Fun Bunch' and Billy 'White Shoes' Johnson, among many others. NFL players have been celebrating their achievements for generations; that is okay.
But Rob Gronkowski did not just go wild celebrating getting drafted or scoring touchdowns. He also celebrated Super Bowls like nobody else. Despite his claim that Mike Gesicki and the Patriots were celebrating more than his teams did when they won the Super Bowl, it is simply not true. There is way too much evidence to pretend it is; and that is okay too.
Nobody had more fun than Gronk during the Patriots parade pic.twitter.com/ZKaq8snCcR

— NFL on ESPN (@ESPNNFL) February 4, 2015
Of course, it is difficult for Rob Gronkowski to father acting like a win in October is all that important. Because when Gronk played, October wins never were that important. He had Tom Brady as his quarterback throughout his career and Tom Brady never took a single snap with his team already eliminated from the playoffs. The 2023 New England Patriots were in jeopardy of falling to 1-6 on the season. They scored a game-winning touchdown with 12 seconds remaining to defeat a division rival who was heavily favored. That should warrant a huge celebration and it got one. For the Foxboro faithful, it was great to see.
THE FIRST NEW ENGLAND GRIDDY FOR MIKE GESICKI!!! pic.twitter.com/ljM61EVpM9

— Boston Diehards (@Boston_Diehards) October 22, 2023
Call it a conspiracy theory, but Gronkowski's comments were likely not aimed at Mike Gesicki, Mac Jones, or any other Patriots players. They were aimed at his former head coach, Bill Belichick. When Gronk says, "Whenever we celebrated just a little bit, we would get hounded," Belichick was the man doing the hounding. So, is Rob Gronkowski just asking why Bill Belichick is no longer hounding players over celebrations? Is he suggesting the Patriots coach is slipping? Is this evidence that bad blood remains from his tenure in New England?
For those who have forgotten, Rob Gronkowski retired from the NFL following the 2018 New England Patriots Super Bowl win. He then came out of retirement after missing the entire 2019 season. It was not to return to Foxboro, however. It was to join Tom Brady in Tampa Bay.
The cause of any animosity toward Belichick and the Patriots could have stemmed from several things. Maybe the medical treatment he received for his many injuries. Possibly the rumored trade that would have sent him to Detroit. It could have been all of that and more.
Rob Gronkowski went on to be part of the 2020 Tampa Bay Buccaneers team that won a Super Bowl with Tom Brady. Gronk showed who his loyalty rested with his quarterback, not his coach or original franchise. And guess what Gronkowski did after winning the Super Bowl? He celebrated…a lot. And he should have.
.@RobGronkowski just said someone might need to take him out of here on an ambulance. pic.twitter.com/EO5AP1Igfk

— JennaLaineESPN (@JennaLaineESPN) February 10, 2021
Gronkowski claims the Patriots should have acted like they've been there before. There were grumpy old men saying the same thing about Gronk for nearly a decade, as he wiggled his hips and slammed footballs into the earth. Barry Sanders never celebrated that way. Sanders gave the ball to the referee and ran back to the sidelines like scoring was no big deal. If Barry Sanders had made these comments about the New England Patriots, it would have been much more understandable. But Gronk?
This is all just to say, the old Rob Gronkowski is missed. He is probably still very generous with charities and children (as he was with my own daughter, getting her an autographed shirt to her when she was battling cancer). He is probably still a lot of fun to hang with. But at some point he became a curmudgeon when it came to other football players having fun. Whether this is just animosity aimed at the man who drafted him will likely never be known.
Sorry to hear Rob Gronkowski won't be making the trip to Foxboro. He deserves a huge ovation from Pats fans as well (save any negative takes for someone else please). He will always be a hero to my daughter Bridget and our family. #ForeverNE pic.twitter.com/1IdVZnTalk

— Dan Kelley (@DanKelley66) October 2, 2021
Since Jack Lemmon and Walter Matthau have both been deceased for over two decades, there is no more Grumpy Old Men sequels on the horizon. But perhaps there could be a spinoff to the franchise. If the good old Gronk is permanently gone, replaced by a curmudgeon named Robert Gronkowski, this new version can star in a spinoff of his own. It will be about a former NFL player that criticizes current ones for having a great time just like he used to. But hopefully nobody will need to sit through any more screenings of Grumpy Old Gronk.