Report Card: New England Patriots at Las Vegas Raiders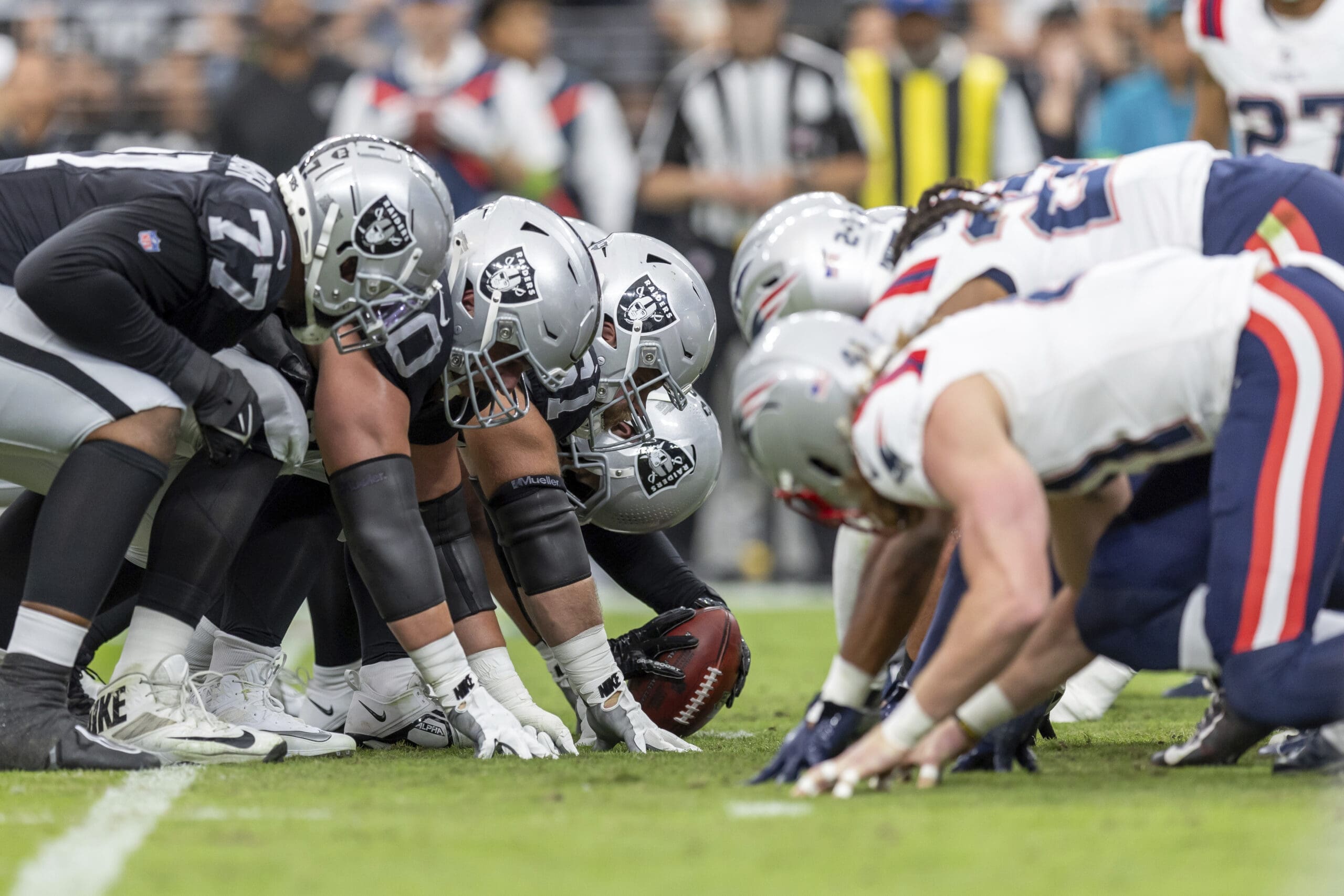 Last weeks's New England Patriots Report Card had five failing grades. Those "F's" included coaching quarterback, offensive line, wide receiver and special teams. The good news for New England Patriots is that the performance, as reflected in these grades, was much better against the Raiders than it has been in weeks. Despite much improvement, it was not enough to earn a win.
After losing by a combined score of 72-3 in the previous two games, there was plenty of room for improvement. New England certainly improved, losing by a final score of 21-17. But Patriots fans are certainly not used to celebrating a competitive loss, and that is not what is happening here.
As with the aftermath of every game, the positives and negatives are reflected in this week's New England Patriots Report Card…
Coaching: C-minus
Bill Belichick's focus has always been to take away the opposition's top weapon. The Raiders have a couple of Pro Bowl skill position players on offense in RB Josh Jacobs and WR Devante Adams. Jacobs finished with 93 yards from scrimmage but held to under 3.1 yards per carry running. Adams was a virtual non-factor, catching two passes for 29 yards. Las Vegas was able to win, in part, by having complimentary players like TE Michael Mayer and WR Tre Tucker step up to do damage. The main objective of taking away the stars was largely accomplished, but it was not enough.
New England Patriots become a powerhouse in the NFL largely because of their ability to avoid self-inflicted wounds. The coaching of Bill Belichick and his staff was given a lot of the credit for that. So, it always seems fair the staff should receive their fair share of blame when the opposite occurs. There were too many penalties, several extremely costly yesterday. Some of the blame for sloppiness goes to execution, but an undisciplined team is also a reflection of the coaching.
Offensive line coach Adrian Klemm and special teams coach Cam Achord likely did not have a good night's sleep once again as their units continued to struggle. More on that below.
Quarterback: D
Mac Jones' first pass of the game was an incompletion to RB Rhamondre Stevenson. The Patriots running back took his eyes of the ball and simply dropped it. Jones' last pass on the day was an incompletion on a deep ball thrown to DeVante Parker. The thrown was placed perfectly, but his wide receiver simply did not catch. Fitting bookends to the type of game it was for the New England Patriots QB.
NFL Network's Ian Rappaport reported prior to the game that Mac Jones would have a short leash in this game. That did not appear to be the case. A short leash would have seen Jones replaced at halftime after his horrible interception at the end of the first half floated right to the opposition. And while Mac Jones didn't get enough help, he himself was not great once again. The interception was both awful and costly. The sack Jones took to end the game (for all intents and purposes) was bad game awareness. A sack and the game is over. So, literally anything other than that is the right play there. There was a delay of game penalty on that final possession as well.
Malik Cunningham was a non-factor in the game, taking a sack in his lone snap from center.
Running Backs: B
Both Rhamondre Stevenson and Ezekiel Elliott had very good afternoons. They combined to carry the ball 17 times for 80 yards and two touchdowns. After the dropped pass to Stevenson on the opening drive, they caught their other six targets for 39 yards. The running backs showed their best burst of the season, as well as toughness to get into the end zone. Elliot in particular played with fire, seeming to hope it would be a contagious for some of his lethargic teammates.
Ezekiel Elliott also had the most explosive offensive play of the game for the Patriots. He took a 74-yard catch and run to the house. It would have immediately quieted/stopped the momentum the Raiders had just got from a Jakobi Meyers touchdown reception. But after a dramatic celebration dive into the end zone, Elliott stood up to realize it didn't count. Tight end Hunter Henry had been called for holding on the play and it was brought back. Story of the game and season.
Patriots travel 74 yards on this play but get a holding call on #85

So no TD pic.twitter.com/7MFAuOVIMI

— NFLComedySkits (@NFLComedySkits) October 15, 2023
Wide Receivers: C
The dropped bomb by DeVante Parker on the Patriots last possession obviously hurt this grade considerably. It would have been easier this week to give an A to Kendrick Bourne and fail the rest of the unit. Bourne was outstanding, catching 10 passes for 89 yards. Like Elliott, Bourne also played with excitement and enthusiasm. Mac Jones said that the Patriots offense needed to start having more fun in games, but apparently only Elliott and Bourne got the memo.
Parker played in 75% of the offensive snaps, but recorded only a seven-yard catch on three targets. Coupled with his drop and lack of accountability after the game, this made Parker an easy target for the ire of New England Patriots fans.
Demario Douglas and JuJu Smith-Schuster were both out due to concussion protocol. Tyquan Thornton and Ty Montgomery made one reception each, while Jalen Reagor was shut out. Rookie Kayshon Boutte was a healthy scratch once again, though that could change given the lack of production from the unit, aside from Bourne.
Tight Ends: C-minus
Mike Gesicki is proving to be a sure-handed receiver. Yesterday he caught all three targets for 28 yards. Gesicki is also proving to be a substandard blocker. On the safety that Mac Jones took at the end, Gesicki was not able to even check Maxx Crosby. With the struggles of the Patriots offensive line, this is something the tight end position must be able to help with. Gesicki does not.
Hunter Henry has been very dependable and looks that way on tape. But a look at the boxscore shows that his receiving numbers were the same as DeVante Parker's: three targets, one reception, seven yards. Henry also had the extremely costly holding penalty on Ezekiel Elliott's negated touchdown reception.
Pharaoh Brown was targeted once, gained 15 yards on the play, and blocked well. Brown was only in for 19 offensive plays, but that number could continue to rise if his fellow tight ends can't get the job done.
Offensive Line: D
The offensive line was better but still far from good.
Trent Brown the lone effective offensive lineman once again. He looked lost in space on a few plays, but was overall very effective. The same cannot be said for the rest of the offensive line.
A poll posted prior to the game on X/Twitter asked who Patriots fans would start at right tackle if the choice was their's. Vederian Lowe finished last in the poll with less than 11% of the vote. Yet, for the fourth week in a row, Lowe got the start at right tackle. Maxx Crosby is a great player, but Lowe failed to slow him down even slightly on multiple rushes. This includes the game-losing safety. At this point it should be clear that at least for 2023, Vederian Lowe is not the answer to the Patriots problems at right tackle. He also had a false start on the very first offensive play of the game.
The interior offensive line wasn't much better. Sidy Sow and Atonio Mafi each had a penalty, and each struggled to block. The rookies are supposed to be backing up Mike Onwenu and Cole Strange, but neither of them can stay healthy. At this point they simply seem too confused with stunts and struggle to find somebody to block. Center David Andrews continued his subpar play as well. He has struggled, after a good performance in New England's opener. It is hard to imagine the offensive line without their captain, but rookie Jake Andrews may deserve a look if this continues.
Offensive line coach Adrian Klemm deserves plenty of criticism. This group has been worse than a season ago, when Matt Patricia was ripped for splitting his duties between play calling and offensive line coach. The linemen often appear at a loss as to who to block or where to be, with very little coming instinctually. Penalties and missed assignments are handcuffing an offense that is struggling enough when things are operating smoothly.
Defensive Line: C
Christian Barmore was the brightest spot from this group. He had his most disruptive game since week one against Philadelphia. He finished with four tackles (three solo) and a huge tackle for loss. Barmore's stop in the Las Vegas backfield gave the New England Patriots the ball back on a punt with a chance to win the game. Lawrence Guy and Davon Godchaux also provided run stop defense along the front. Deatrich Wise, Jr. was a non-factor and committed a penalty. It has been a roller coaster season for the usually steady team captain. Keion White was injured early in the game and did not return. White is the Patriots best bet to be a difference maker in the pass game, which was sorely lacking. The defensive line combined for zero QB hits.
Linebackers: C
Jahlani Tavai was the star of this group, recording five tackles (four solo) and an interception. He also had a potentially costly 15-yard unnecessary roughness penalty for slamming down Raiders RB Josh Jacobs. Anfernee Jennings played well and played more than expected. He had five tackles, including one for a loss. Josh Uche did nothing in 17 snaps before being injured. He was a non-factor in the game before being out. Ja'Whuan Bentley played in 100% of the defensive snaps (the only defensive player to do so) but had only three tackles to show for it. An average grade for an average performance from the linebackers.
Defensive Backs: C
J.C. Jackson played an excellent game, despite being called for a questionable penalty late. He was mostly on Devante Adams, with help, and did an excellent job. Safety Jabrill Peppers also played great. He led the team with seven solo tackles and delivered a crushing hit on Adams that led to Tavai's interception, as the ball was knocked into the air.
There were a couple of breakdowns from the unit. Raiders WR Jakobi Meyers caught a touchdown with nobody near him in the end zone. Myles Bryant was the closest man to Meyers, but it appeared he was expecting help from Mack Wilson who was way too late. They also got beat on a deep pass to Tre Tucker with Jonathan Jones, who was playing injured, the primary man in coverage.
Tight end coverage was a problem, as Michael Mayer became a go-to target for Raiders quarterbacks. He finished the game with five receptions for 75 yards. The two largest gains both victimized Jalen Mills, who doubled his defensive snaps to 20 this week.
Special Teams: D
Good news: PK Chad Ryland made his lone field goal from 43 yards out. Hopefully having a perfect afternoon will help the rookie's confidence.
Bad news: DL Sam Roberts was penalized on a leverage play on a Raiders field goal attempt. Unfortunately, Roberts found himself in a position where he could not do much without putting his hand on the back of the lineman, but that is also an automatic penalty. Las Vegas almost baited them into that one; which once again questions the coaching of the special teams unit Cam Achord with an assist from Joe Judge. The New England Patriots defense was able to prevent the field goal from becoming a touchdown with a second chance, but these are not mistakes the Patriots can afford to make.
Punter Bryce Baringer had a lousy 34-yard punt in the second quarter that gave the Raiders great field position and helped set up their first touchdown of the game. Then, following the safety at the end, Baringer got a free kick. The New England Patriots absolutely had to do something to get the ball back or it was an automatic loss. The lofted a punt 15 yards that was easily caught and ended the game.
Haven't the New England Patriots for years practiced ridiculous scenario like "free kick with under a minute left and need to get the ball back?" To see the game end on that lack of effort and imagination was a discouraging end to another discouraging loss.