Jones Just Wants to Have Fun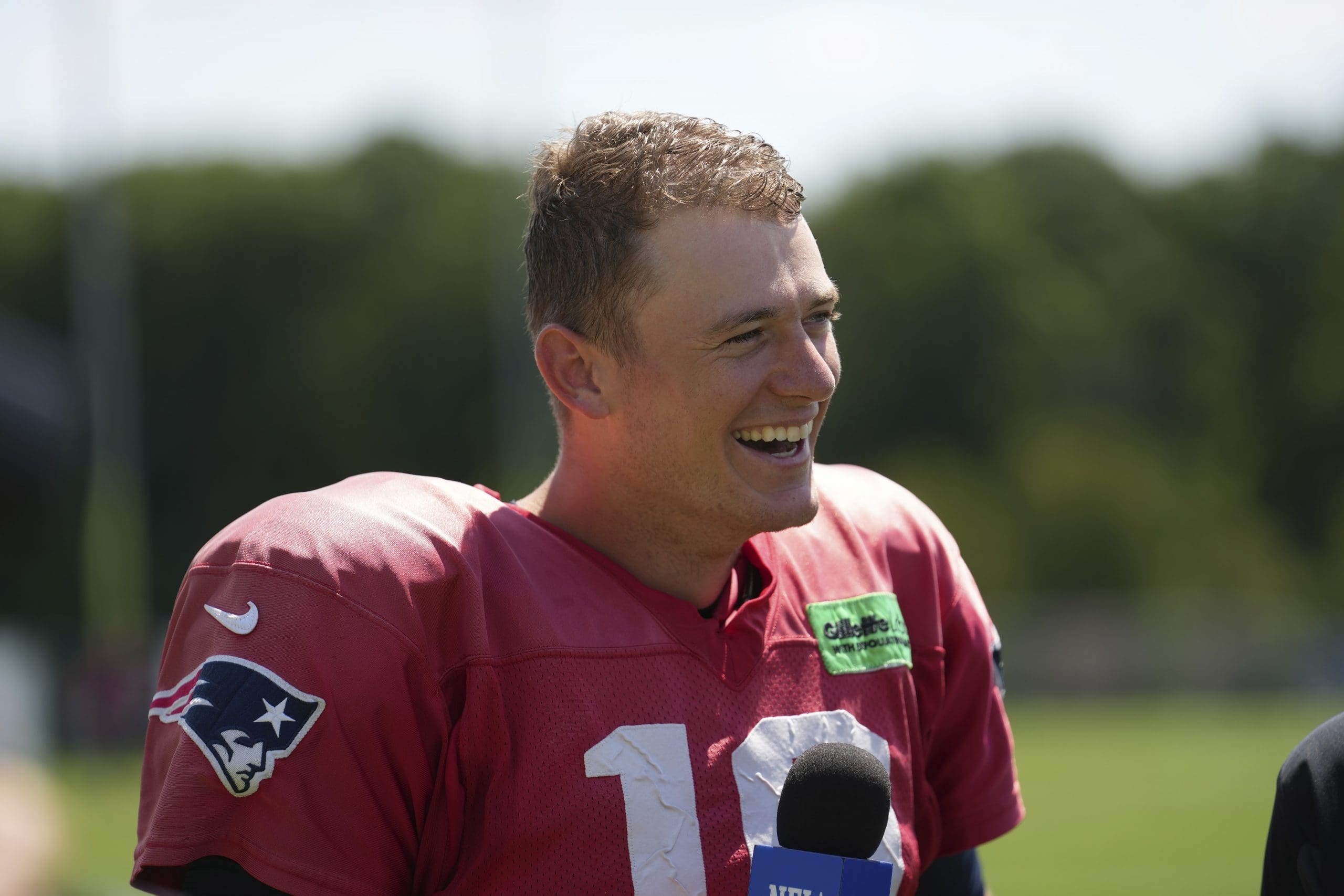 Mac Jones knows that winning football games is much more fun than losing them. As a result, the New England Patriots haven't been having much fun on game days this season. On Wednesday, Jones suggested that the Patriots offense can turn around their abysmal start by not waiting for better results to have fun. Maybe, Mac Jones opined, having more fun could lead to better results.
Despite a disappointing 1-4 record, the last two weeks have really led to the Doomsday vibes around Foxboro. Dallas and New Orleans destroyed New England in consecutive weeks by a combined score of 72-3. There is never a lot of fun to be found when getting thoroughly dominated in consecutive weeks.
Jones has been part of the problem. His offensive line has been atrocious, and the playmakers have been ineffective. But Mac Jones has been awful as well. The quarterback has committed six turnovers in the past two games. Three of these have led to defensive touchdowns for the opposition. For those keeping track, this means while the Patriots offense has put up three points in two games, the Cowboys and Saints defenses have scored three touchdowns over that same span. Not a formula for winning.
But in addition to poor play, the body language on the Patriots sideline has been awful. When anything goes wrong, they look defeated, almost sulking. Tom Brady screamed at teammates, either with criticism or trying to get them fired up. That didn't necessarily look like Brady was having fun, but it certainly made it obvious he cared about what was happening. The intensity and competitiveness were probably fun for the greatest to ever do it. But not every player or person is wired like Tom Brady. And people shouldn't expect everyone to be built the same. But so far, the 2023 New England Patriots offense has looked defeated and disinterested, on the field and on the sideline.
This is not the first time Mac Jones' body language has been a topic of conversation. Nick Saban pointed this out to Jones when he was coaching him at Alabama. Jones learned from watching himself and corrected it. Perhaps the Bill Belichick needs to set up a sideline camera on Jones during Patriots games.
Nick Saban shares story about the negative influence body language had on Patriots rookie QB Mac Jones and how correcting it was a turning point in his career. pic.twitter.com/UAzaOOzFI0

— Joey Burton (@JoeyBurton) November 24, 2021
Yesterday Mac Jones said that part of the Patriots offensive woes was not having enough fun on the football field.
"When I'm at my best I'm having fun, enjoying everybody. We're out there playing a game that we love," Jones said. "Right now, it's not looking too good, but we've got to flip the switch, right? And start over and figure out ways to go out there and have fun, sling the ball around and guys go make plays and then celebrate with each other, too."
Mac Jones and his fellow offensive players need to figure out a way to have fun very quickly. If not, the idea that there is no QB controversy in New England will be over. A third consecutive performance like the last two will force Bill Belichick's hand to replace Jones as the New England Patriots starting quarterback, whether he likes his other options or not. Another three turnover game and Bailey Zappe, Will Grier and Malik Cunningham might all surpass Jones on the depth chart.
So for the sake of the New England Patriots and their fans, here's hoping Mac Jones has some fun on Sunday. Playing loose will be more enjoyable to watch. And fanbases appreciate cheering on a team that looks like they care about what is happening as much as the fans do. And there is another reality for Mac Jones,. If he doesn't have any fun against the Raiders on Sunday, Jones may not get another chance to be the New England Patriots starting quarterback.