New England Embarrassed in Another Loss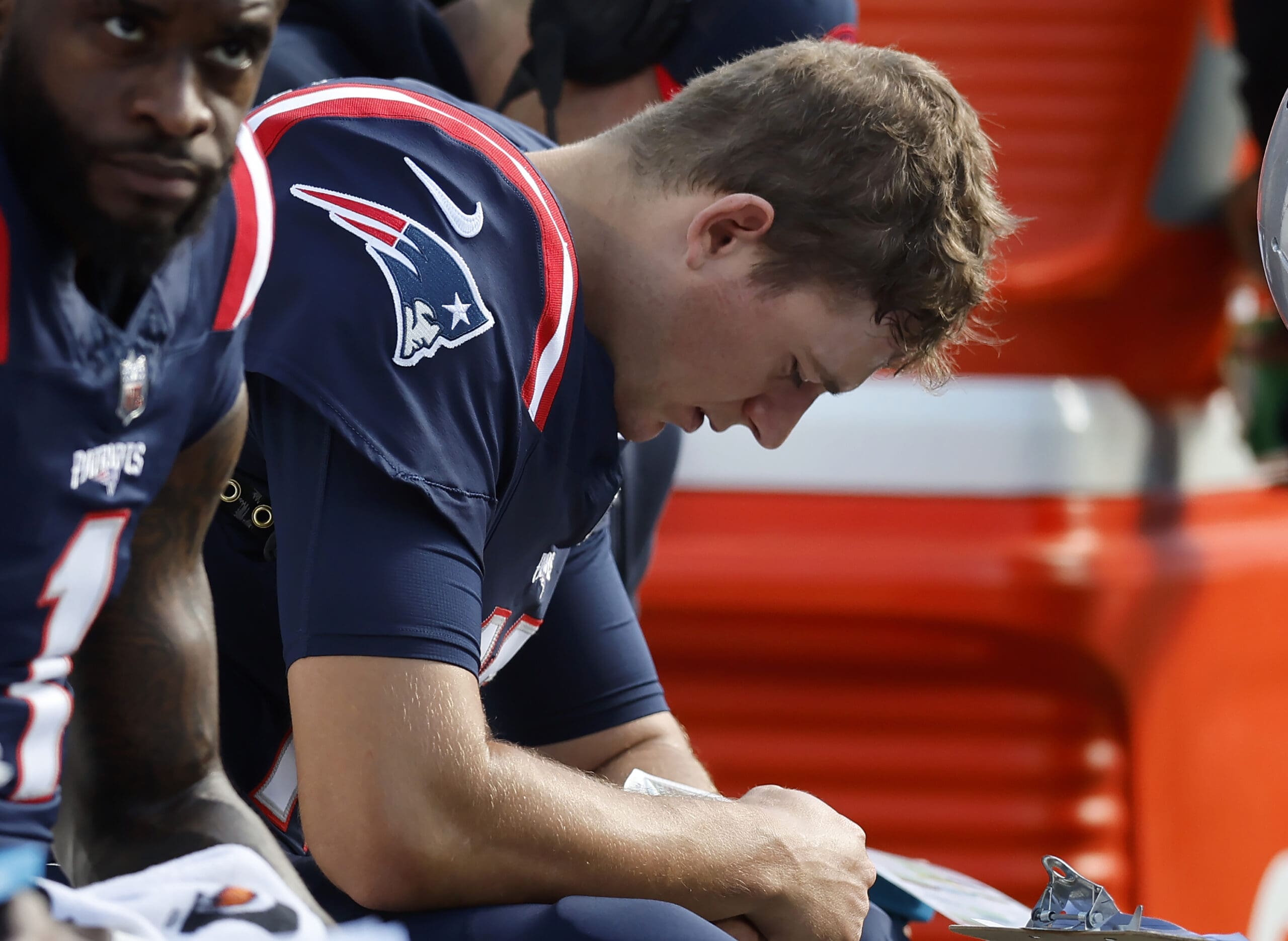 About the only positive takeaway from last weekend's New England Patriots loss to the Dallas Cowboys was that things couldn't get much worse. On Sunday against the New Orleans Saints, the Patriots put that theory to the test. While the final score may not have been quite as lopsided as the 38-3 defeat in Dallas, the 34-0 final didn't look or feel any better.
Slow Start
The keys to the New England Patriots success, or failure, are widely known at this point. As a result, "keys to the game" were reduced to only three items this week. Item #1: Start Strong. Unfortunately, for the fourth time in five games, the Patriots failed to accomplish this goal. While the defense was able to hold on the Saints first two drives, the Patriots offense let them down once again.
After punting in their first possession, the Patriots began their second drive at their own 20-yard line following a touchback. Three plays later, a Mac Jones pass was intercepted by Tyann Mathieu and returned for a touchdown. It was the third defensive touchdown scored against the New England in the past two weeks alone. All three (two interceptions and a fumble) came directly from the hands of Mac Jones. It gave the Saints a 7-0 lead, which would be expanded to 21-0 before halftime.
TYRANN PICK-6!!!@Mathieu_Era takes it to the house! #Saints | 📺: CBS pic.twitter.com/NcLqKhCBlD

— New Orleans Saints (@Saints) October 8, 2023
Costly Turnovers
Bill Belichick has stressed that nothing in football is more important than ball security. The New England Patriots head coach has been proven right in 2023. The team with fewer turnovers has won all five of their games. To the chagrin of Patriots fans, that has been the opposition in four of New England's five games.
In addition to the Mathieu pick-six, the Patriots began the second half with another turnover. Trailing 21-0 at the time there was already very little margin for error. A poor pitch from Mac Jones to Rhamondre Stevenson was recovered by Cameron Jordan of the Saints.
Three drives later, with backup QB Bailey Zappe already looking ready to enter the game for the Patriots, there was a third turnover. A pass looked as though it had been completed to Ty Montgomery, but was knocked loose as he turned to go upfield. New Orleans linebacker Pete Warner snagged the ball out of the air for the Saints second interception of the game. It would be Mac Jones last snap of the afternoon.
Awful Offensive Line Play
The New England Patriots offensive line has been an issue all season. The game against the Saints proved to be was no different. Starting guard Cole Strange, who has struggled with both health and performance, was inactive for the game. Atonio Mafi got the start in his place at left guard. Vederian Lowe started at right tackle once again for the Patriots. Both Calvin Anderson (starting RT in Week 1) and Tyrone Wheatley, Jr. were inactive. The answer at right tackles still needs to be found. It is clear that answer right now is not Vederian Lowe. Right tackle wasn't the only area of concern however. LT Trent Brown, who had been a bright spot on the line this season, got beaten badly for a third quarter sack. Brown looked either uninterested or unprepared on the play. Normally solid center David Andrews has also struggled to maintain solid protection the past few weeks.
All of the issues with the offensive line has a trickle down effect on the entire offense. It forces the tight ends to stay in and help block and the Patriots tight ends are also their most reliable receivers. It also limits the run game, which also limits the effectiveness of the play-action pass game. With six former Patriots starting on offensive lines with other NFL franchises, one would assume New England's current offensive line situation was in better shape than it is.
Special Teams Struggles
Last season's New England Patriots special teams struggled. This season the unit has been even worse, and considerably so. Bill Belichick has always emphasized the importance of special teams. He has used significant draft capital on special teams players. The Patriots also have more roster spots taken up by exclusive special teams players than any other NFL franchise. So how are they continuing to struggle?
Special teams coach Cam Achord came back this season despite the unit's struggles. He was reportedly going to get more help from Patriots assistant Joe Judge. Literally every aspect of this unit has regressed. The return game regressing is understandable with the loss of All Pro Marcus Jones. But Belichick has given lectures on the importance of long snapping, and Patriots LS Joe Cardona has struggled repeatedly in 2023. After eight solid seasons in New England, has not gone smoothly for the veteran.
In the 2023 NFL Draft the Patriots took two kicking specialists. Punter Bryce Baringer has been decent, though the New Orleans game was a rough one for him. Placekicker Chad Ryland has been bad, especially in comparison to his predecessor. While Ryland has hit only 50% of his field goal attempts this season (including 0-for-1 on Sunday) last year's kicker has been perfect. Nick Folk, now with the Tennessee Titans, entered this weekend a perfect 10-for-10 on field goal attempts, including a game-winner and two from over 50 yards out.
QB Controversy?
This past week it seemed obvious despite last weekend's awful performance by Mac Jones that there should be no QB controversy for the New England Patriots. Not only do the Patriots need to find out what Jones is capable of before deciding whether or not to move on from him, the other options are simply not great. Bailey Zappe came on in relief for the second week in a row, but unlike 2022 there has been no outbreak of Zappe Mania this season. The other options under contract are Will Grier and Malik Cunningham, who combined have two NFL starts, both losses by Grier in 2019.
While there is unlikely to be a change as the starting quarterback in New England this weekend, there will be a lot more views of the PFN report on the 2024 NFL Draft quarterbacks.
Lack of Playmakers
Quite simply the New England Patriots do not have enough playmakers on their roster. Playmakers are guys that can dominate a game, or turn momentum around quickly. Every week the Patriot seem to play against a few opponents in that category (Alvin Kamara, Chris Olave, Cameron Jordan and Tyrann Mathieu on Sunday against the Saints) but lack their own.
The Patriots biggest difference makers are on defense. They are also out injured: Christian Gonzalez and Matthew Judon. When people say that New England needs to add more weapons, these are the types of players that are being discussed. Wide receiver is often the obvious place to point, but it is really throughout the roster. The teams on top of the NFL Power Rankings have playmakers and the New England Patriots do not.
More Injuries
WR Demario Douglas (head), OL Mike Onwenu (ankle) and WR JuJu Smith-Schuster (head) all left the game with injuries on Sunday and did not return. Onwenu has been dealing with an ankle injury all season. Riley Reiff replaced Onwenu at right guard. Douglas made a nice catch in the first quarter but was hit in the head on the reception. Both Douglas and Smith-Schuster could be in concussion protocol.
What's Next?
Next Sunday the New England Patriots (1-4) hit the road to face the Las Vegas Raiders (1-3). The Raiders host the Packers tomorrow night on Monday Night Football.