Patriots Rookie Report Card: NFL Debuts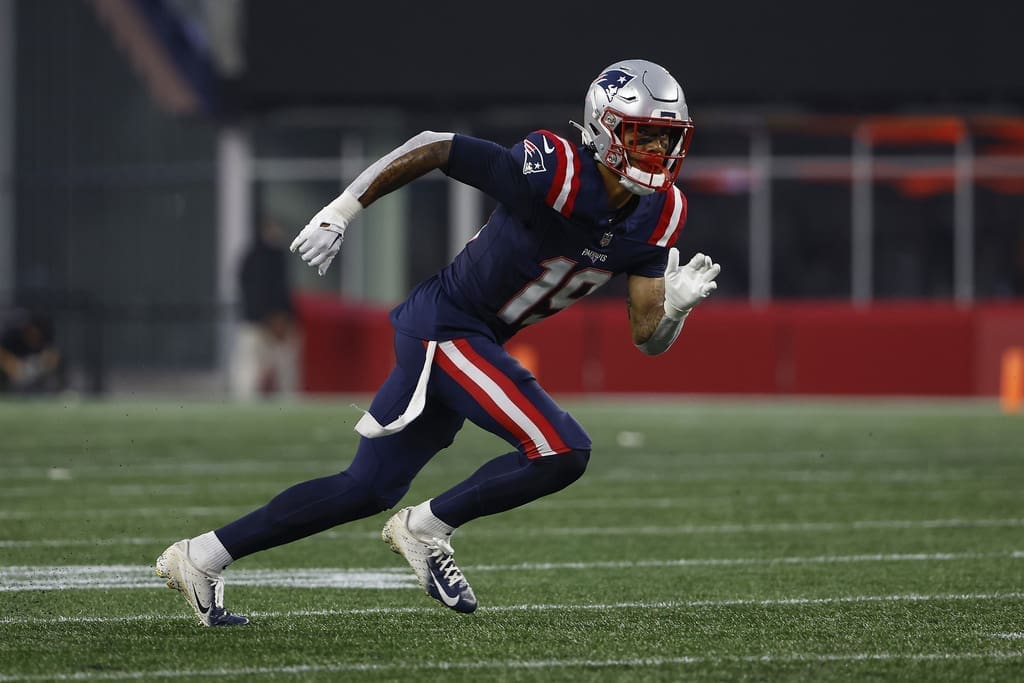 Eleven rookies made their NFL debuts for the New England Patriots in Sunday's season opener. Results were mixed, ranging from excellent and encouraging, to anxiously awaiting improvement. Since it was the first taste of true NFL action for this group, the grading metric for Week 1 will be a bit gentle. Instead of handing out letter grades A-to-F as one would normally do, for their first look these players will be graded elementary school style:
E = Excellent
S = Satisfactory
NI = Needs Improvement
INC = Incomplete
Shoutout to Patriots wide receivers coach Ross Douglas, who inspired this kinder critique. Douglas admitted a couple of his young students "need improvement" when asked about their Week 1 performances. Onto the grades:
Jake Andrews (INC) – Andrews played only two snaps, the Patriots two extra-point kicks. Tough to judge the reserve offensive lineman on that little.
Bryce Baringer (E-) – Seven punts resulted in a 45.2 yard average for Baringer against the Eagles. Three of his punts landed inside the Eagles 20-yard line. He was held back from a perfect "E" because of a touchback. He also seemed to outkick the coverage on Philadelphia's lone long return (a 25-yard return fielded at the four). Baringer was error-free as the holder on extra points.
Kayshon Boutte (NI) – With DeVante Parker sidelined, Boutte took his snaps. With an expanded role, Boutte played in 55 offensive snaps (68.75%). Although he was targeted four times, he failed to snag his first NFL reception. Boutte did successfully catch two passes along the sideline, however he failed to get two feet down inbounds both times. The first of these was clearly on Boutte, who looked like he temporarily forgot he was no longer playing under the NCAA's one-foot rules.
Demario Douglas (S) – Nothing spectacular to report from Pop Douglas in Week 1. Although he was the talk of training camp, his first regular season game was much quieter. Douglas played 41% of the offensive snaps. His seven targets resulted in four receptions for 40 yards, converting two of those into first downs. Douglas amassed only 8 yards after catch, something the Patriots hope to improve moving forward.
Christian Gonzalez (S+) – The Patriots first round pick played 100% of the 66 defensive snaps on Sunday. As the primary defender he allowed nine completions on 11 attempts, for 101 yards (16 YAC). He was doing battle against Pro Bowl QB Jalen Hurts and star receivers A.J. Brown and DeVonta Smith. Gonzalez played better than his numbers. He proved to be a willing and able tackler with seven (five solo) though obviously nobody wants their CB1 to be in a position to need to make so many tackles. Gonzalez also had a nice cornerback blitz, resulting in a sack. And on the Eagles penultimate possession he had a nice fourth down pass breakup (and got away with PI?). Gonzalez looked like he belonged, which is a great sign for both the New England Patriots and their prized rookie.
Atonio Mafi (NI) – With Cole Strange and Mike Onwenu both out, Mafi was forced into a starting role and played 100% of offensive snaps. He allowed seven pressures and a sack. Mafi also struggled to generate much push in the run game against a difficult defense. In a best-case scenario, Strange and Onwenu return to the lineup for Week 2, and Mafi returns to his reserve role, having gained valuable game experience.
Marte Mapu (E) – Amazing that Mapu had three tackles, including two excellent open field tackles despite playing only nine snaps. His production, coupled with his versatility, should help Mapu see the field more often in Week 2 and beyond.
Chad Ryland (INC) – Would have been nice to give Ryland an actual grade, but he attempted only two extra points on the day (making both). His kickoffs were solid. Bill Belichick opted to go for a fourth down instead of allowing Ryland to attempt a 34-yard field goal in the fourth quarter. The attempt failed, and Ryland is forced to wait at least until Week 2 to attempt his first NFL field goal.
Sidy Sow (NI) – See the report on Mafi above, and the same review could be applied to Sow. He allowed five pressures and a quarterback hit. Aside from the slight difference in stats, his performance nearly mirrored that of his Mafi. Sow was at an even bigger disadvantage, having played mostly at right tackle in the preseason. He was the fourth offensive guard on the depth chart but ended up playing 100% of the offensive snaps. Both Sow and Mafi deserve an "E" for effort but an "NI" for performance.
Ameer Speed (S) – Playing on 17 special teams snaps, Speed was largely a non-factor in Week 1. He had neither glaring mistakes, nor noticeable contributions. He finished with no tackles on the day. Sometimes no news is good news, especially in an NFL debut.
Keion White (E) – No question White will be a major contributor to the Patriots defense this season. In his 23 snaps he managed to lead the team in hurries (4) and tied for the lead in pressures (4) with Pro Bowl LB Matthew Judon. As with Mapu, expect to see much more of White as the season moves on. NFL offenses beware!